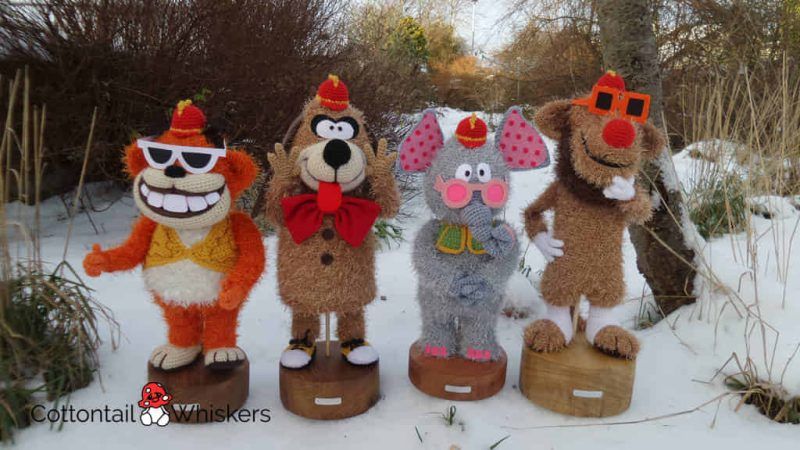 Our Frequently Asked Questions are always being updated to cover, well… frequently asked questions. If you can't find an answer you are looking for then get in touch at the bottom of the page. We're here to help.
Accessing Your Crochet Pattern Library
You create an account during your initial order process. When you collect your first pattern, a website account and library is automatically created with us. All your patterns are available for immediate download there whenever you need them. You can request your account to be deleted at any time.
Your name and email will be stored in your account. You'll also find links to your orders and patterns can be downloaded immediately. Your collected patterns are available for the lifetime of the account. We hope our website becomes an accessible library of your Cottontail & Whiskers patterns for as long as you want them.
Account
You can use either the 'Name' you created or registered email address to log in at:
https://www.cottontailandwhiskers.com/account/
Password Reset
If you've forgotten your password, you can have it reset by sending a link to your email. Do this with a click here:
https://www.cottontailandwhiskers.com/account/lost-password/
Pattern Download
Once logged in, you can visit your account and access your purchased patterns to download again here, whenever you need them:
https://www.cottontailandwhiskers.com/account/downloads/
Your pattern library will be kept available and you can download them again as many times as required. Please make sure that the files are downloaded to your own storage after purchase for safe keeping. Access to your purchased patterns is available for the life of your registration. Should you find a previously purchased pattern is no longer accessible, please contact us to update your access.
How to View our PDF Patterns
When it comes to printing, we've had to employ some watermarking because of pirate websites who like to steal our patterns. Because of Chinese websites hosted by Alibaba and supported by Cloudflare in the U.S. in particular, who share our copyright material, we have had to protect it.
The PDF files which you download are available on your device. They should be in your 'Download' folder and can be opened from there with your PDF reading software. Our PDF patterns can be downloaded, saved, viewed, annotated and printed.
Are you experiencing problems viewing our PDF patterns? Make sure you have the latest version downloaded. You can do this by visiting your Account and downloading the version available. It's worth checking back occasionally as we update our patterns based on feedback to be sure they are as easy to understand as possible.
Google's Chrome, Microsoft's Edge and Apple's Safari browsers are not known to have any problems viewing, downloading, opening and printing the PDFs.
Payment methods
We use the following partners to provide secure off-site payment options from trusted global business'. We do not collect or store any payment information other than method. We use this to protect you should a dispute arise. These payment providers are independent of Cottontail & Whiskers for your security and peace of mind
PayPal
Stripe Card Payment
Understanding the Patterns
The patterns contain instruction to make all parts of the creations photographed on the product pictures unless stated otherwise. If special materials are used, the patterns contain detailed instruction on their use. It is our hope that it is fun to follow the patterns and that you feel accomplished and content with the guidance and photographic tutorials.
Do not hesitate to contact us if there are still misunderstandings within a pattern.
Copyright
Our website, patterns and all associated images are the intellectual property of Cottontail & Whiskers. No part of our intellectual copyright may be reproduced or used in any manner without the prior written permission of the copyright owner.
Printing our Patterns
By purchasing pattern documents from Cottontail & Whiskers, you are given our permission to print private copies for personal use. These copies, either whole or in part, remain the intellectual property of the copyright owner.
Items made from our patterns
Items made using any part of Cottontail & Whiskers patterns are subject to our copyright. Items produced using our intellectual property either whole or in part, may be freely gifted. They may only be sold with prior written permission of the copyright owner. If you have any questions or to request permission, contact us first. You can do this at the bottom of the page. Please don't hesitate in contacting us. We've never refused anybody yet and only ask as some crafters sell our designs as their own.
Sharing your Work
We love nothing more than seeing our patterns made real by your fair hands. Have you seen our Crafters Reviews? What makes it even better is when those fair hands acknowledge our part in their creativity. Apart from a warm appreciative glow, we are given the opportunity to welcome fresh crocheters to the site and maybe even a few new pennies towards the future.
Thank you
We would like to take this opportunity to thank you for purchasing a Cottontail & Whiskers crochet pattern. Many hours of work are involved in its imagining, design, test, presentation, publication and release . Your support is the reason we can continue to create designs which we hope give many hours of enjoyment. We value you greatly and apologise for any problems caused by encryption and watermarking on our PDFs.
We know that our patterns are illegally distributed online and in private. We take our intellectual property very seriously, but it is impossible to monitor or stop all these acts of petty theft. If you have not purchased our pattern directly through Cottontail & Whiskers, you are in part destroying our passion, belief in people and ability to continue producing designs you obviously enjoy.
The next time you feel like offering a 'bounty', paying 'gold coins', clicking 'likes' or giving a social 'thank you' to the person who enabled you to steal our hard work for what you might think is free, consider how little we ask and what it took to produce.
Be one of the Good Guys and support us. Buy your own copy with our thanks, appreciation and full support. Fate willing, we'll be here to assist your creativity.
Not a FAQ
If you're still reading and had one of our Frequently Asked Questions, hopefully we've answered it. If you still can't find an answer you are looking for then as we mentioned before, get in touch. We're here to help.