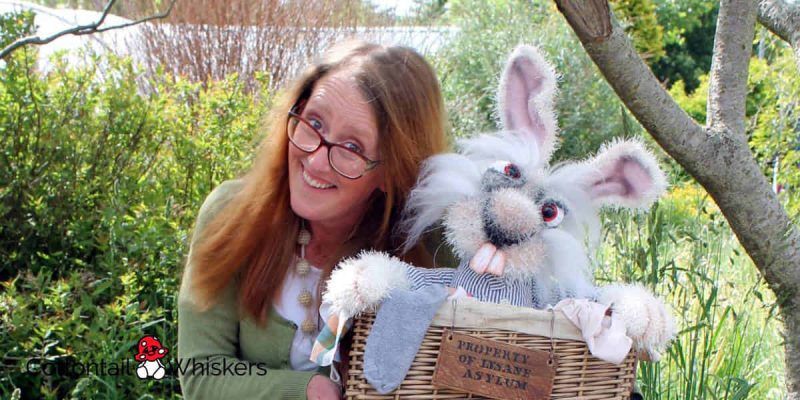 About Crochet Patterns and Bea King at Cottontail and Whiskers
An Introduction… Hello!
Bea learned to crochet in 2013 by making a granny square (as you do)! Once she picked that hook up, it never really got put down again. Granny squares just didn't cut it anymore so she self taught the skill of amigurumi, pattern writing and counting… a lot of counting!!!
It has grown from there and never looked back. Once the house was filled with animal heads and toys, Bea decided to open a shop so others can enjoy Cottontail & Whiskers creations while we hope to mend the roof.
Bea lives in rural Aberdeenshire; bonnie Scotland with ever wavering attention, passionate disdain and a challenge on the specification of every fact and none at all, simultaneously. Bea has spent close to 30 years with Jim. Jim makes life keep working and is the best bloke in the world, ever. He looks after tomorrow. Perhaps because of her artistic temperament and his unassuming brilliance we love one another, our five children, one grandchild, a dog (rest in peace Ziggy – 2007-2021), two chickens (rest in peace Henry 2019-2022) and an unhealthy an amount of yarn.
"Tell me more about crochet patterns and Cottontail and Whiskers!"
Ok then…
Colour is a huge influence, which is why you'll find a menagerie of wavelengths absorbing each passing gaze. Starting out with basic animals body shapes, our designs have grown with confidence.
Now sanity is constantly eroded by creating ever more vibrant and detailed imaginings. The challenge is half of the journey and a warm glow of satisfaction when a piece is complete pops a cherry on top.
We absolutely love what we do and the best praise is being told it makes people smile. Job done! If you ever get crochet curious and pick up one of our patterns, we'd love to hear your thoughts on it. Your Crafters Feedback is our favourite page on the internet.
https://www.cottontailandwhiskers.com/amigurumi-crochet-pattern-reviews/
Defining Crochet
To make clothes and other things using wool and a special needle with a hook (= curve) at one end.
Source: dictionary.cambridge.org
We specialise in 'other things'
There's always a crafty challenge around the corner, so if you have any knotty ideas, get in touch.
And there's more…