Alice in Wonderland White Rabbit Doll Crochet Pattern
Our Alice's Adventures in Wonderland amigurumi pattern of the White Rabbit. Create a fussy bunny in your own time. No need to worry about being late, though it would make a fine gift for someone waiting on a date.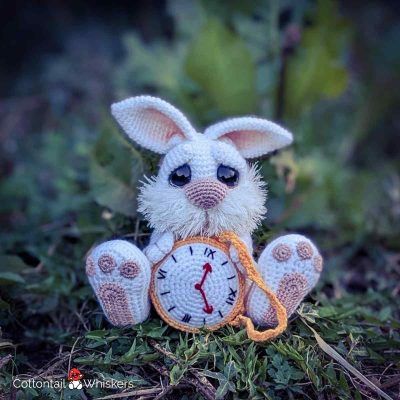 Detailed pages of clearly written crochet pattern with full colour photo guide. Easy read instructions for beginners and experienced crocheters. We also include an additional printer friendly text only section to save your paper and ink.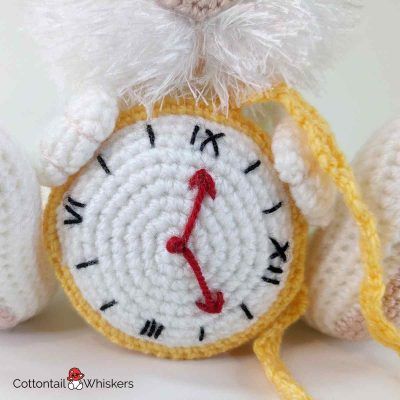 An account is created on purchase to view, download and print your patterns whenever you want them
Born in Scotland, written in English, terms in US American
The White Rabbit doll is one of our Alice in Wonderland crochet patterns. Have a look around while you're here.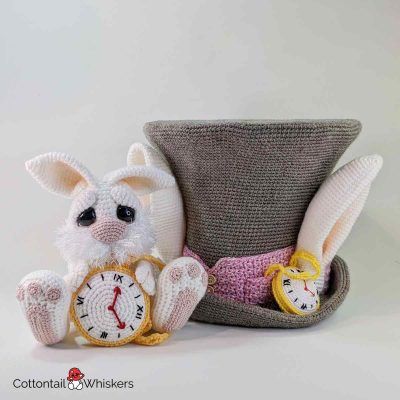 Did you know?
There is a long held superstition to say "White Rabbit" (or just 'rabbit', mood depending) on the first day of the month, before noon. It's said to bring good luck!
Source: dictionary.com
Alice in Wonderland White Rabbit Doll Crochet Pattern
Pages
Main: 24 pages
Printer: 10 pages
Total: 37 pages
Size:
20 x 18 x 15 cm (8 x 7 x 6 inches)
Skill level:
Skills required:
Rows
Chain (ch)
Rounds (rnd)
Single crochet (sc)
Half double crochet (hdc)
Increase (inc)
Decrease (dec)
Slip stitch (slst)
Fasten off (fo)
Materials:
White aran yarn – 60 g
Yellow aran yarn – 10 g
Brown aran yarn – scraps
White short eyelash yarn – 15 g
Pink DK yarn – 10 g
Black embroidery thread/yarn – scraps
Red embroidery thread/yarn – scraps
Black safety eyes – 24 mm
Toy stuffing
Equipment
Hook size – 2.50 mm
Hook size – 3.50 mm
Tapestry needle
Scissors
Stitch markers