Pork Belly Streaky Bacon Scarf Crochet Pattern
Our Vegan friendly pork belly scarf crochet pattern. Craft your fried bacon wrap with our detailed pattern. So good, you can eat it, almost… maybe. Many pages of photo tutorial guide notes and 'how-to' explanation from Cottontail & Whiskers. Add this crochet Danish rasher pattern your Account to keep, view, download and print whenever you need.
We include a 'Printer Friendly' text only section to save ink and paper.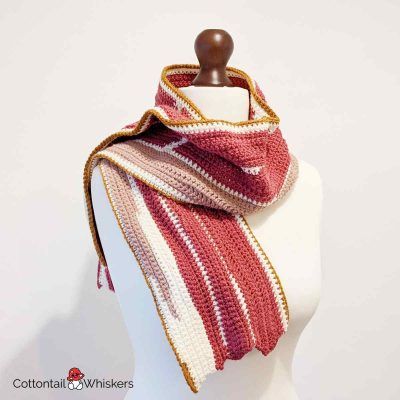 Born in Scotland, written in English, terms in US American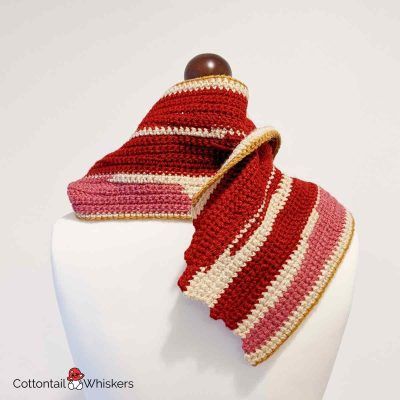 Have you met our inspirational Potato the Pig Doorstop?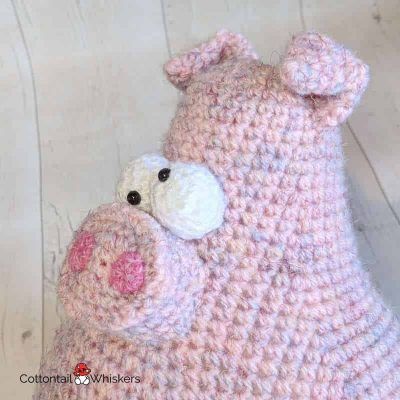 Did you know?
There are 3 types of bacon. Raw, cooked and burnt. Each was invented as an early form of processed meat in China, 3000 years ago.
Source: mentalfloss.com
Pork Belly Streaky Bacon Scarf Crochet Pattern
Finished size
58 x 18 cm (23 x 7 inches)
Skill level
Skills required
Rows
Chain (ch)
Single crochet (sc)
Half double crochet (hdc)
Double crochet (dc)
Increase (inc)
Slip stitch (slst)
Materials
(I used a range of Stylecraft yarns)
Burgundy aran yarn – 100 g
Beige aran yarn – 70 g
Pink aran yarn – 30 g
Rust brown aran yarn – 10 g
Equipment
Crochet hook – 5.00 mm
Tapestry needle
Scissors
Stitch marker