Amigurumi Strawberry Crochet Cow Pattern
Our crochet strawberry cow amigurumi pattern. Crocheting the sweetest cattle of the herd is made easier with this original design. Many pages of photo tutorial guide notes and 'how-to' explanation from Cottontail & Whiskers. Add this fruity cow crochet pattern your Account to keep, view, download and print whenever you need.
We include a 'Printer Friendly' text only section to save ink and paper.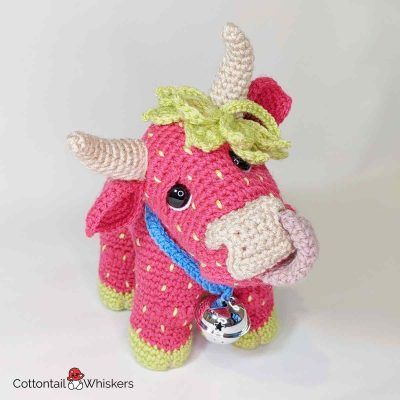 Born in Scotland, written in English, terms in US American
Strawberries aren't the only flavour of cow. Traditionally, we've 'steered' towards our own Highland Cow variety, but there are others!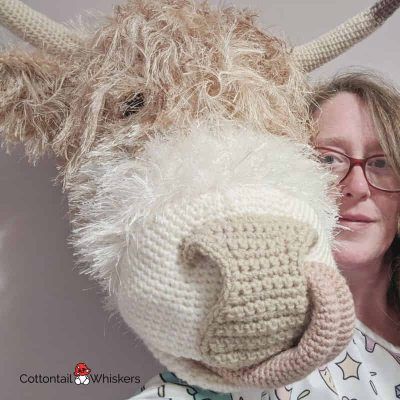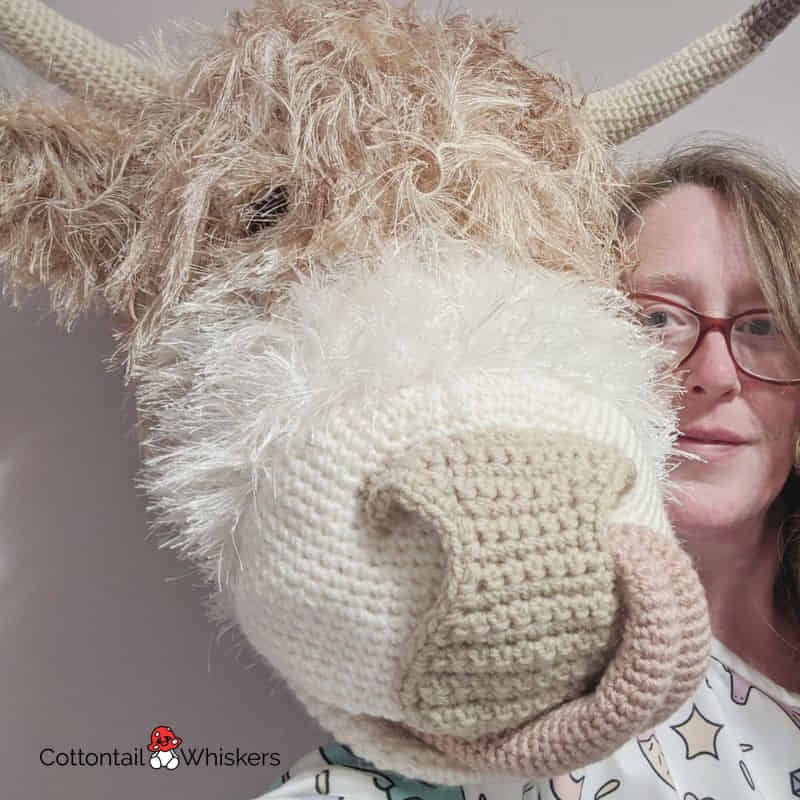 Did You Know?
A Dairy Research Laboratory of Australia study in 1989 found that supplementing cattle feed with sunflower seeds gave the milk a raspberry flavour!
Source: sciencefocus.com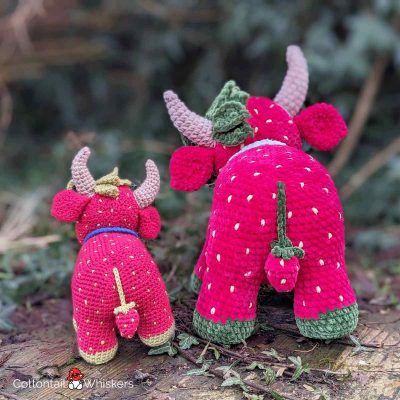 Amigurumi Strawberry Crochet Cow Pattern
Finished size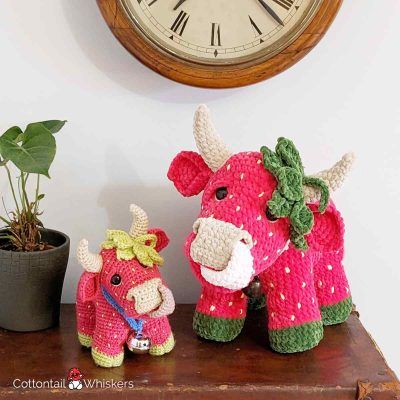 Large: 40 x 36 x 25 cm (16 x 14 x 10 inches)
Small: 23 x 20 x 10 cm (9 x 8 x 4 inches)
Skill level
Skills required
Rows
Chain (ch)
Rounds (rnd)
Single crochet (sc)
Half double crochet (hdc)
Double crochet (dc)
Increase (inc)
Decrease (dec)
Back loops only (BLO)
Slip stitch (slst)
Fasten off (fo)
Materials
Large:
(I used YarnArt Dolce, 6-super bulky yarns)
Red yarn – 250 g
Green yarn – 65 g
Beige yarn – 20 g
Pink yarn – 10 g
Yellow yarn – 10 g
Blue yarn – 5 g
White yarn – scraps
Safety eyes – 24 mm
Jingle bell/cowbell (optional)
Toy stuffing
Small:
(I used Stylecraft, 4-aran/worsted)
Red aran yarn – 80 g
Green aran yarn – 20 g
Beige aran yarn – 10 g
Pink aran yarn – scraps
Yellow aran yarn – scraps
White aran yarn – scraps
Blue aran yarn – scraps
Safety eyes – 18 mm
Jingle bell/cowbell (optional)
Toy stuffing
Equipment
Large: Crochet hook – 6.0 mm
Small: Crochet hook – 4.0 mm
Extra long tapestry needle
Scissors
Lots of stitch markers