Amigurumi Scaled Dragon Shawl Crochet Pattern
Dragon scale shawl crochet pattern from Cottontail & Whiskers. Crocheting your own hand crafted scaled dragon scarf is easier using our clearly written colour photo tutorial. Full how-to crochet pattern guide notes and tips including amigurumi dragon face detailing.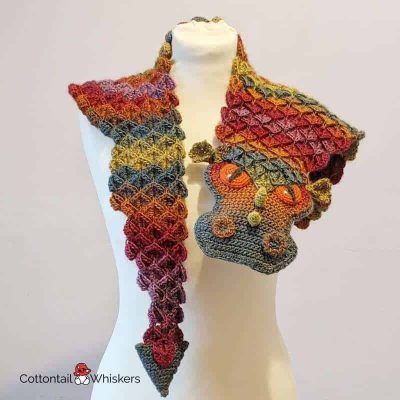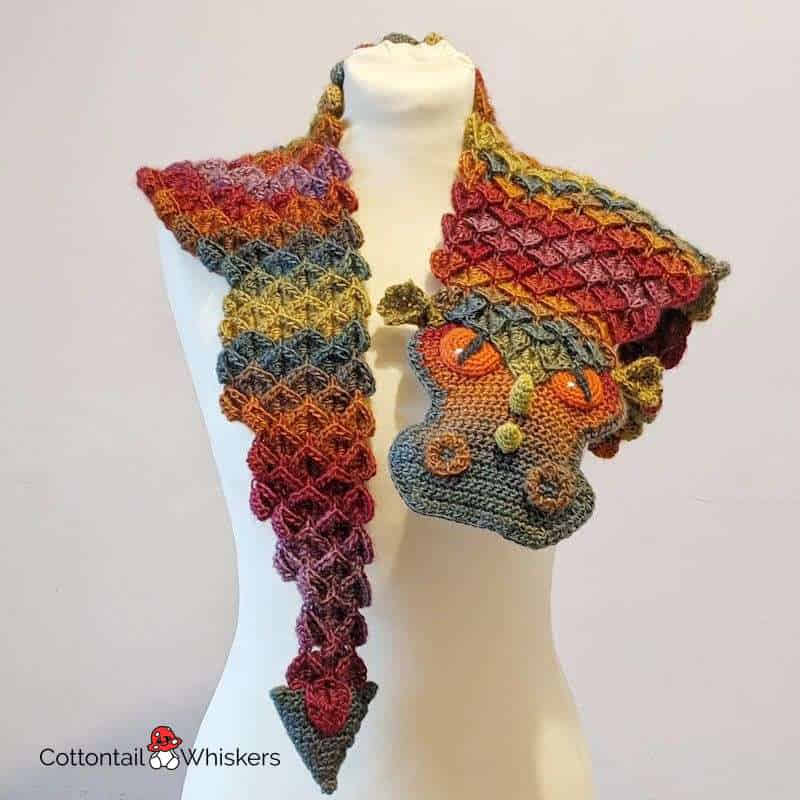 Striking in appearance, our instructions help any ability work this soft cuddly crochet pattern. Bea developed the traditional 'crocodile stich' to include an additional anchor crochet stitch. The end result holds the otherwise loose scales close to the shawl's body, giving it a distinctive neat character.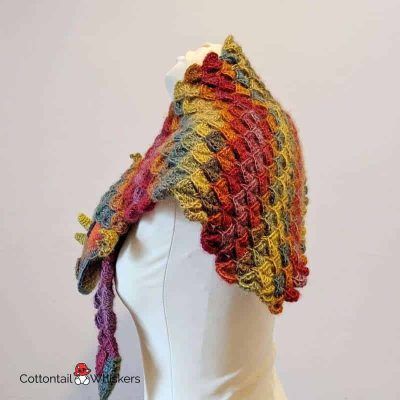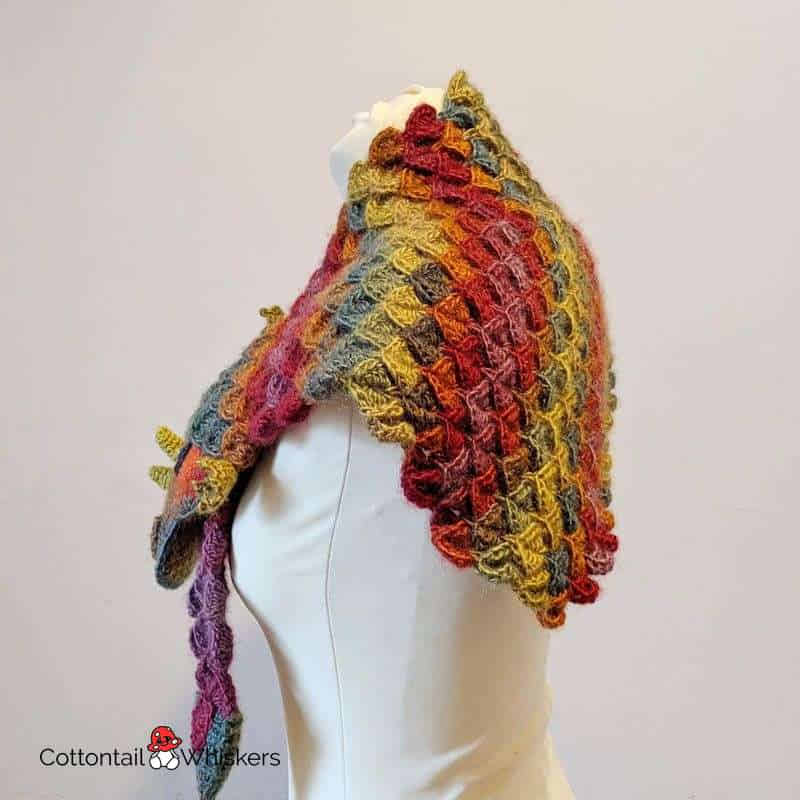 Shaped shoulder fitting is an amigurumi pattern design feature of the Dragon shawl scarf. The main dragon belly body is designed to envelop the shoulder, wrapping snugly around the back of the neck whilst retaining a distinctive asymmetric shape from the back.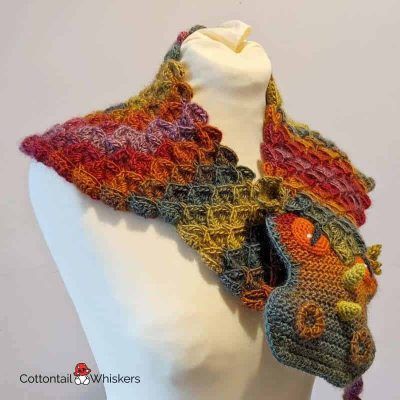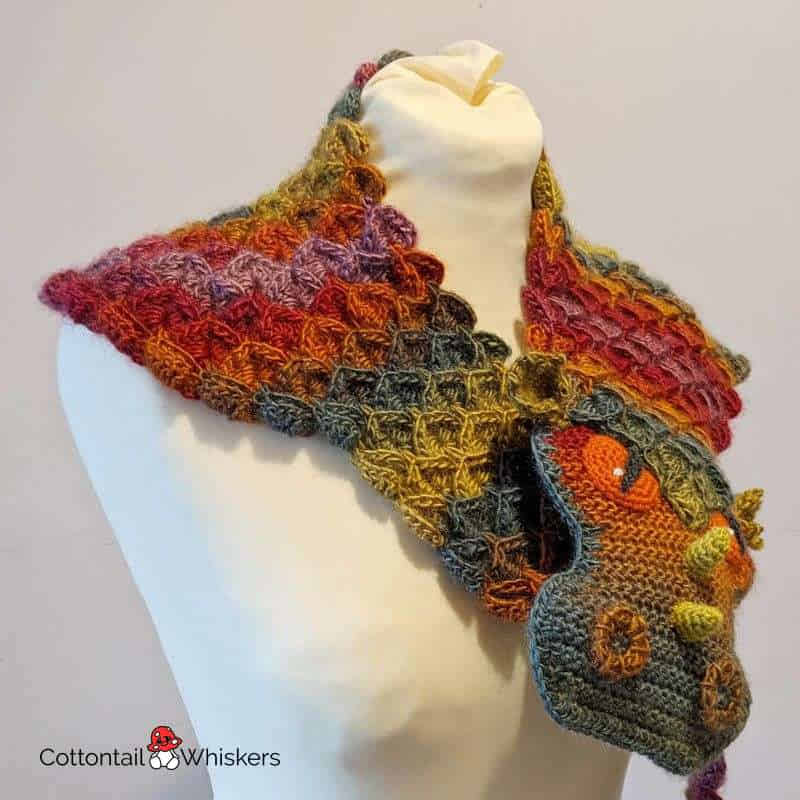 A crochet band behind the head anchors the dragon's tail to slide up, snugly adjusting to fit. Unfastened, it transforms in to a crochet dragon stole or a wrap around dragon scale scarf.
Those who like to read descriptions are rewarded by knowing the answer to one of our burning questions…
"What yarn did you use?"
Have a look at our Flamingo Shawl while you're here.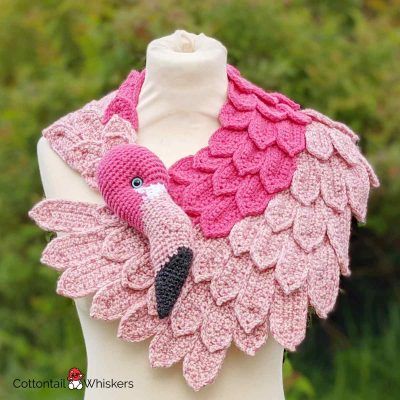 Born in Scotland, written English, using American terminology.
Did you Know?
There is a place here in Scotland. It's a mountain called Beinn Ghuilbin or at least was. The modern name is Beinn a' Bheithir though the Legend is no less haunting. I would tell you a tale of dragons were it not so sad. Google serves it on a cold plater.
All I know is that it must be true. I read it on the internet…  Beinn a' Bheithir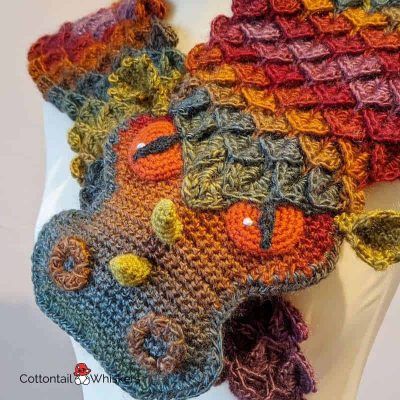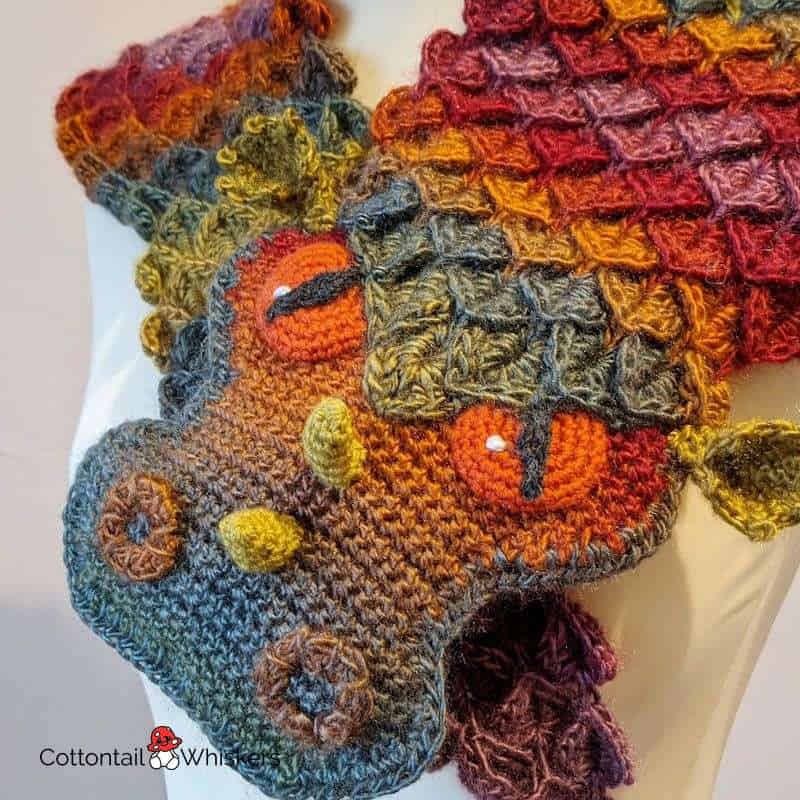 Amigurumi Scaled Dragon Shawl Crochet Pattern
Finished size
86 x 56 x 6 cm (34 x 22 x 2 inches)
Skill level
Skills required
Rows
Chain (ch)
Rounds (rnd)
Single crochet (sc)
Half double crochet (hdc)
Increase (inc)
Decrease (dec)
Crocodile stitch (explained in pattern)
Slip stitch (slst)
Fasten off (fo)
Materials
Main DK yarn – 300 g
Eye colour DK yarn – scraps
Grey/black DK yarn – scraps
Horn colour DK yarn – scraps
White DK yarn – scraps
Toy Stuffing
Equipment
Crochet hook – 3.0 mm
Crochet hook – 5.0 mm
Tapestry needle
Scissors
Stitch marker