Rainy Days Shawl Crochet Pattern
Our optimistic rainbow shining through the clouds on a Rainy Days shawl pattern. Craft your glowing halo scarf of many colours with our detailed pattern with amigurumi cloud and droplets. Many pages of photo tutorial guide notes and 'how-to' explanation from Cottontail & Whiskers. Add this crochet rainbow pattern your Account to keep, view, download and print whenever you need. We include a 'Printer Friendly' text only section to save ink and paper.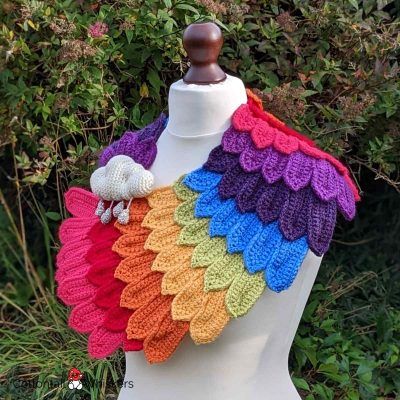 Born in Scotland, written in English, terms in US American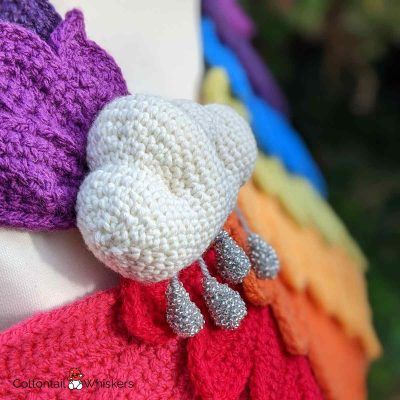 Have you met our Barn Owl Shawl?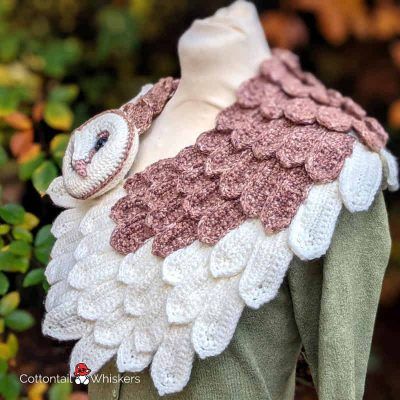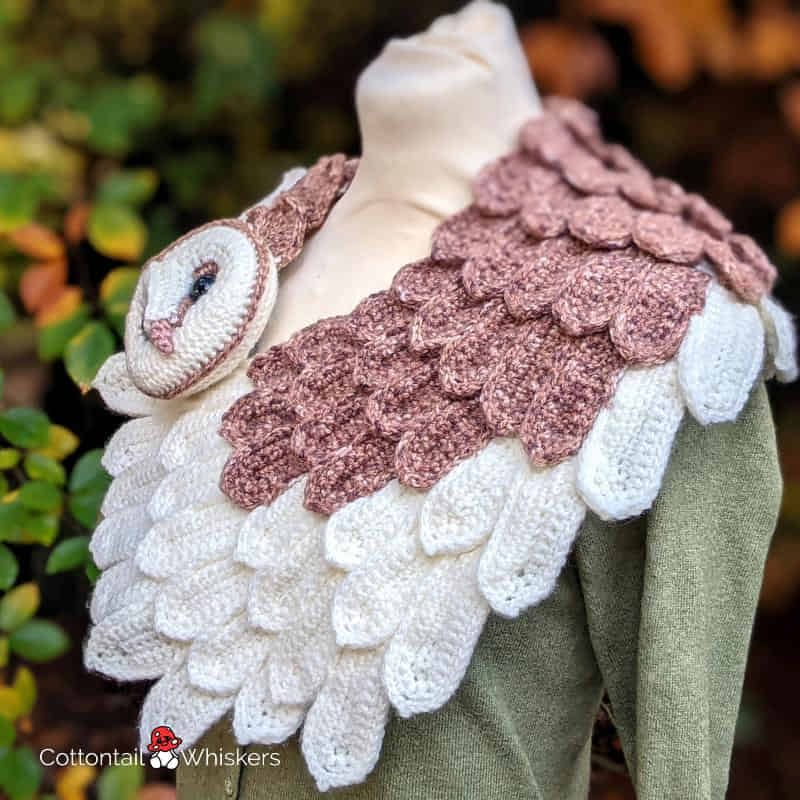 Did you know?
Bring me sunshine in your smile
Bring me laughter all the while
In this world where we live
There should be more happiness
So much joy you can give
To each brand new bright tomorrow

Make me happy through the years
Never bring me any tears
Let your arms be as warm
as the sun from up above
Bring me fun
Bring me sunshine
Bring me lo…oooo…ve
""Bring Me Sunshine" is a song written in 1966 by the composer Arthur Kent, with lyrics by Sylvia Dee. It was first recorded by The Mills Brothers in 1968, on their album My Shy Violet. In the UK, the song is associated with the popular comedy duo Morecambe & Wise, after it was adopted as their signature tune in their second series for the BBC in 1969″.
Credit: wikipedia.org
Couldn't have put it better myself except that Morecambe & Wise deserve another mention. So click this Morecambe & Wise inspired link that was released in 2011, though you wouldn't know it…
Bring me Sunshine 🙂.
Rainy Days Shawl Crochet Pattern
Finished size
66 x 48 cm (26 x 19 inches)
One size
Skill level
Skills required
Rows
Chain (ch)
Rounds (rnd)
Single crochet (sc)
Half double crochet (hdc)
Double crochet (dc)
Increase (inc)
Decrease (dec)
Slip stitch (slst)
Fasten off (fo)
Materials
(I used a range of Stylecraft yarns)
Pink aran yarn (pomegranate) – 50 g
Red aran yarn (lipstick) – 35 g
Orange aran yarn (spice) – 40 g
Yellow aran yarn (saffron) – 40 g
Green aran yarn (pistachio) – 30 g
Blue aran yarn (aster) – 35 g
Indigo aran yarn (emperor) – 30 g
Purple aran yarn (purple) – 30 g
Cream aran yarn – 20 g
Grey Aran yarn – 5 g
Button – approx. 3-4 cm
Toy stuffing
Spray starch (optional)
Beads (optional) – 2 mm
Sewing thread (optional)
Equipment
Crochet hook – 4.00 mm
Crochet hook – 5.00 mm
Tapestry needle
Scissors
Sewing needle
Stitch marker