Amigurumi Daphne the Doorstop Amigurumi Crochet Daisy Pattern (and Slug!)
A Daisy amigurumi door stop by Cottontail and Whiskers, fit for Spring time crochet flowering.
Make Daphne the Daisy door stopper flower and resident crochet slug using our well written photo tutorial. We include detailed instructions with pages of clearly written how-to guide notes.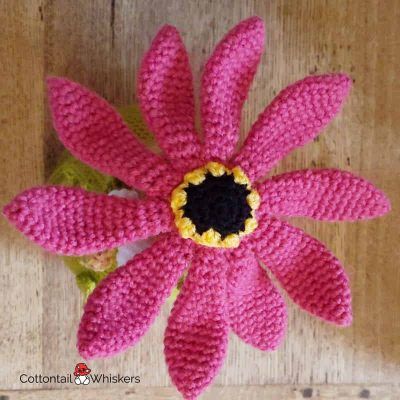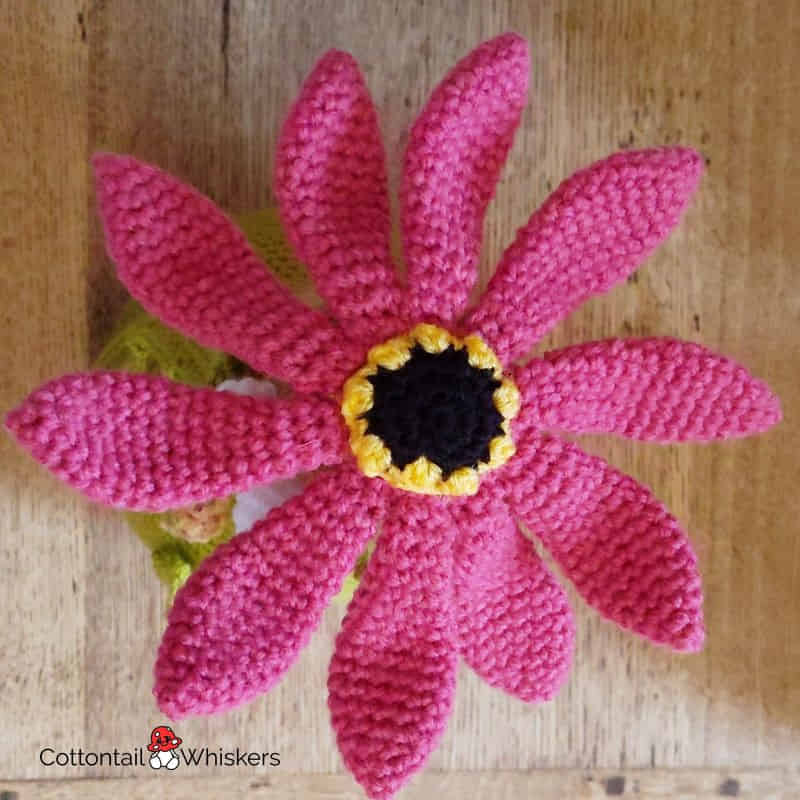 With full colour photograph prompts and step by step walk though, we hope to make these plant crochet patterns as accessible to as many crafters as have desire to pick up a crochet hook.
Houses turn to homes with handmade decor. Each homemade stitch in time leave steadfast memories in yarn long after fashion has blown by, collected as a scrapbook of repeated seconds. Minutes in to hours reveal a token in time.
Forever cherished reminders through gifts born with love, friendship, counting and swearing.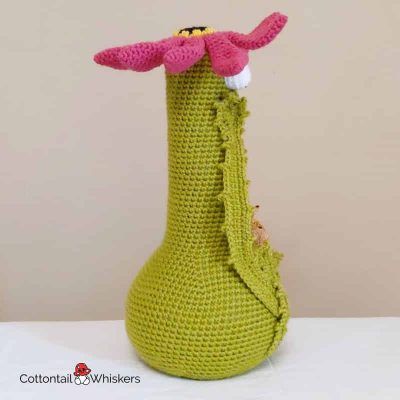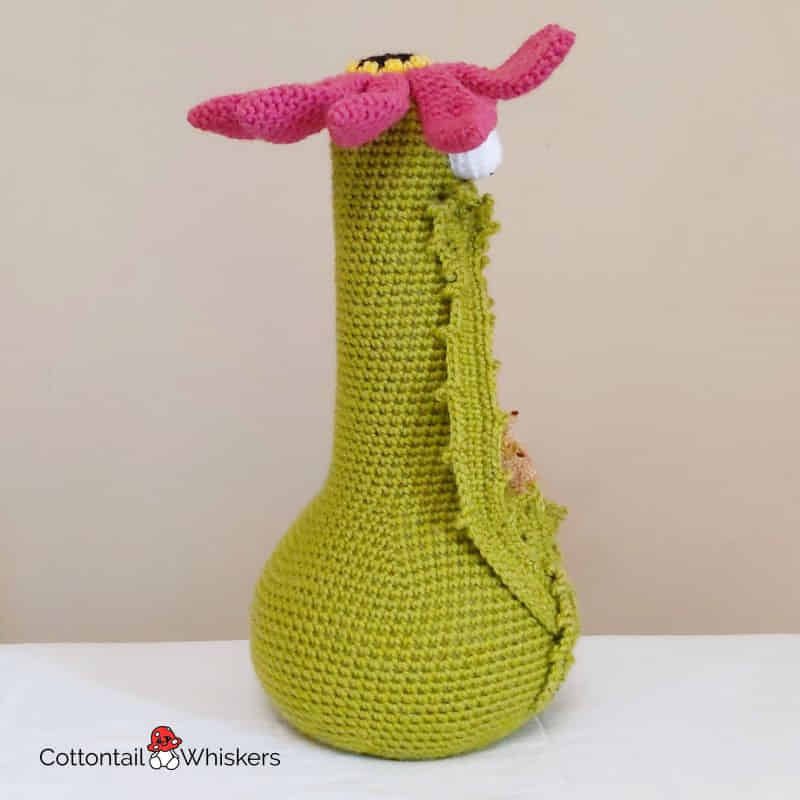 If you can become familiar with these mystical phrases, then you can complete a Cottontail and Whiskers crochet pattern…
'Magic Circle'
Single Crochet (sc)
Double Crochet (dc)
Increase (inc)
Decrease (dec)
and for some of our patterns, Half Double Crochet (hdc)
Additional stitches are fully explained with colour photographs alongside all other amigurumi techniques necessary.
Daphne the Daisy Doorstop Crochet Pattern is available as part of our Spring Flowers crochet pattern BUNDLE here.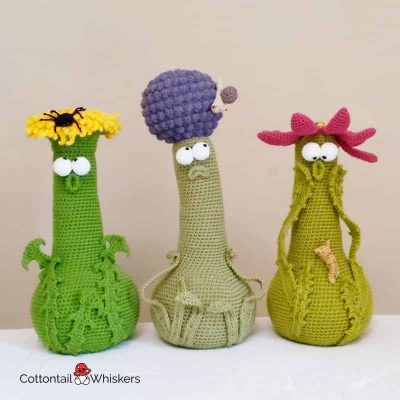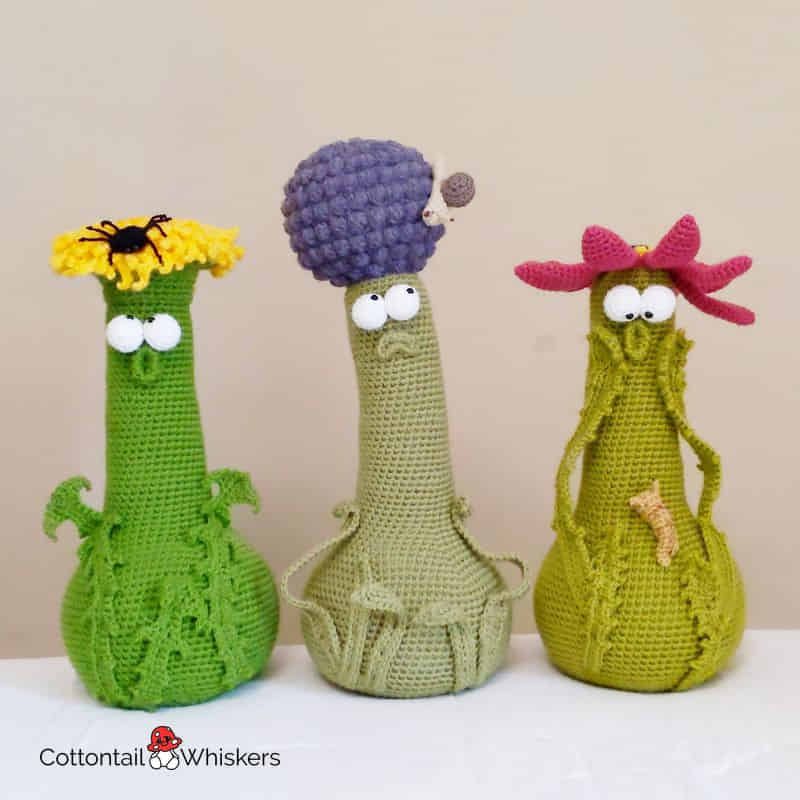 Born in Scotland, written in English, terms in US American
Did you Know?
Daphne is a very confusing name for a Daisy as Daphne is a shrub in her own right. However, who are we to argue?
source: rhs.org.uk
Amigurumi Daphne the Doorstop Amigurumi Crochet Daisy Pattern (and Slug!)
Finished size
38 x 16 x 16 cm (15 x 6 x 6 inches)
Skill level
Skills required
Rows
Chain (ch)
Rounds (rnd)
Single crochet (sc)
Half double crochet (hdc)
Double crochet (dc)
Increase (inc)
Decrease (dec)
Bobble stitch (BOB) explained in the pattern
Slip stitch (slst)
Fasten off (fo)
Materials
Green Aran yarn – 100 g
Pink DK yarn – 30 g
Yellow DK yarn – scraps
White DK yarn – scraps
Black DK yarn – scraps
Brown DK yarn – scraps
Black safety eyes – 6 mm
Toy Stuffing
Beads / rice / grain – 500 g
Stocking or tights
Equipment
Crochet hook – 3.0 mm
Crochet hook – 4.0 mm
Tapestry needle
Scissors
Stitch marker