Steven the Amigurumi Crochet Seagull Doorstop Pattern
A Seagull amigurumi door stop by Cottontail and Whiskers. Make Steven Seagull (not to be confused with Hollywood Steven Segal) door stopper and his delicious bonnet using our clearly written full colour photo tutorial. We include detailed instructions with pages of easy to read, how-to guide notes.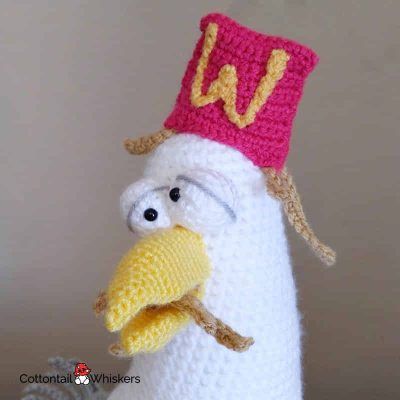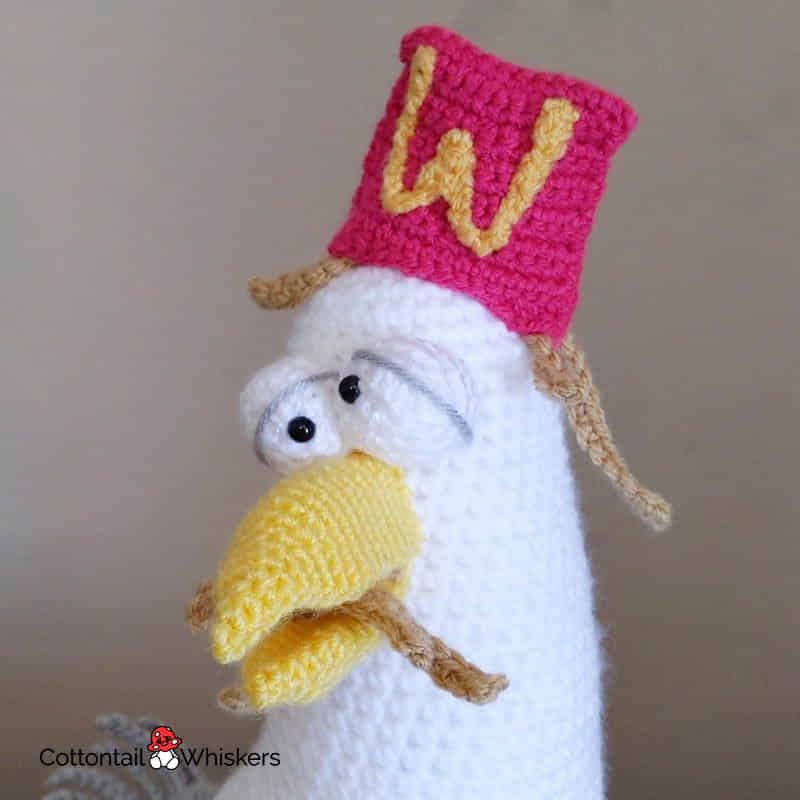 With full colour photograph prompts and step by step walk though, we hope to make these patterns as accessible to as many crafter as have desire to pick up a crochet hook.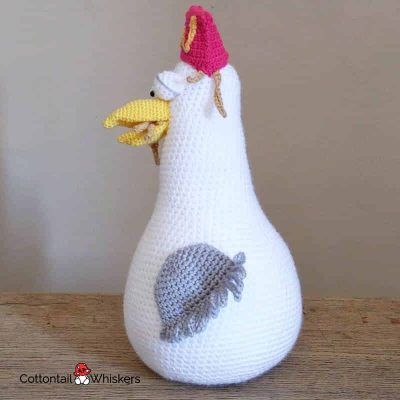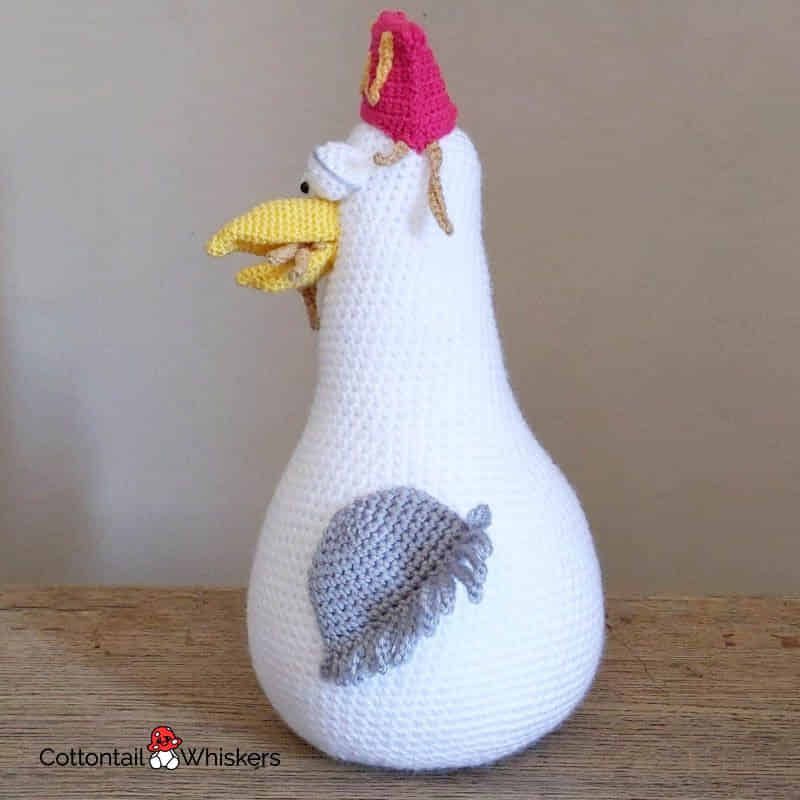 If you can become familiar with these mystical phrases, then you can complete a Cottontail and Whiskers crochet pattern…
'Magic Circle'
Single Crochet (sc)
Double Crochet (dc)
Increase (inc)
Decrease (dec)
and for some of our patterns, Half Double Crochet (hdc).
Additional stitches are fully explained with colour photographs alongside all other amigurumi techniques necessary.
Steven the Amigurumi Crochet Seagull Doorstop Pattern is available as part of our Seaside crochet pattern BUNDLE.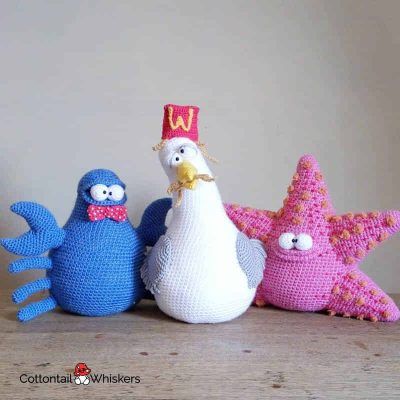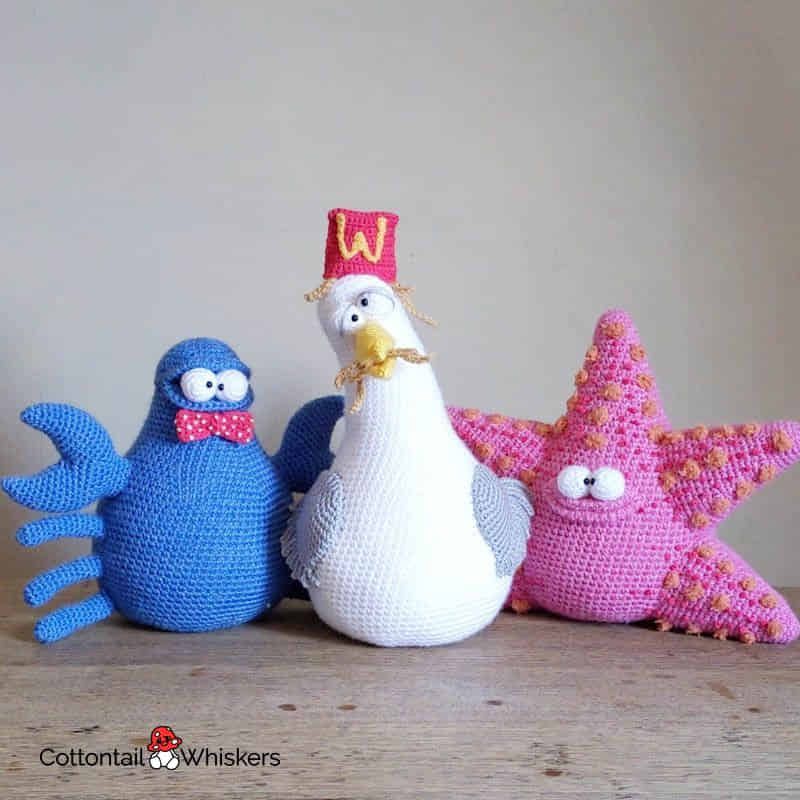 Born in Scotland, written in English, terms in US American
Did you Know?
Seagulls are not so affectionately known as 'scurries' in these parts of Scotland. They have protected status and behave as organised gangs throughout the country. Specialist gulls patrol with menace, dive bombing unsuspecting chip eaters (fries for our MacDonald lovers). They demand food in exchange for freedom. There aren't many Bravehearts that win against a flock of seagulls.
source: rspb.org.uk
Steven the Amigurumi Crochet Seagull Doorstop Pattern
Finished size
34 x 16 x 16 cm (14 x 6 x 6 inches)
Skill level
Skills required
Rows
Chain (ch)
Rounds (rnd)
Increase (inc)
Decrease (dec)
Single crochet (sc)
Half double crochet (hdc)
Double crochet (dc)
Slip stitch (slst)
Fasten off (fo)
Materials
White aran yarn – 90 g
Grey aran yarn – 20 g
Red DK yarn – 10 g
White DK yarn – scraps
Yellow DK yarn – scraps
Beige DK yarn – scraps
Black safety eyes – 6 mm
Toy Stuffing
Beads / rice / grain – 500 g
Stocking or tights
Equipment
Crochet hook – 3.0 mm
Crochet hook – 4.0 mm
Tapestry needle
Scissors
Stitch marker