Wonderland Crochet Rabbit Hat Amigurumi Pattern
Our amigurumi Rabbit Hat crochet pattern. Don't be late to the party and create your own Wonderland while wearing Alice's adventure with the white rabbit on your head.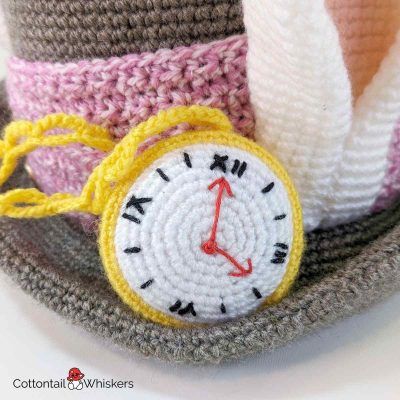 Many pages of photo tutorial guide notes and 'how-to' explanation from Cottontail & Whiskers. Add this festival of millinery to your Account to keep, view, download and print whenever you need.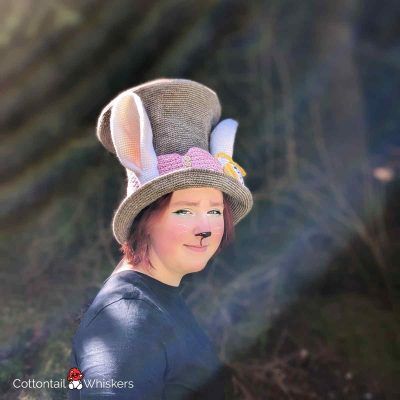 We include a 'Printer Friendly' text only section to save ink and paper.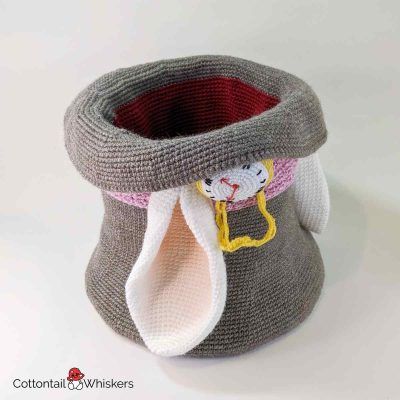 Born in Scotland, written in English, terms in US American
It's not mad, March or a hare. It's a heady clothing accessory adventure inspired by Lewis Carrol from the original book entitled Alice's Adventures in Wonderland. There's many more fantastic creatures to be found around the site. Maybe look over some of our crochet doll patterns while you're here.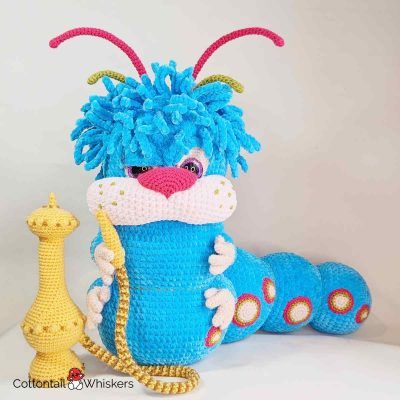 Did you know?
The White Rabbit is found at the very beginning of Alice's adventure. She follows this flustered bunny down the now famous rabbit hole to Wonderland.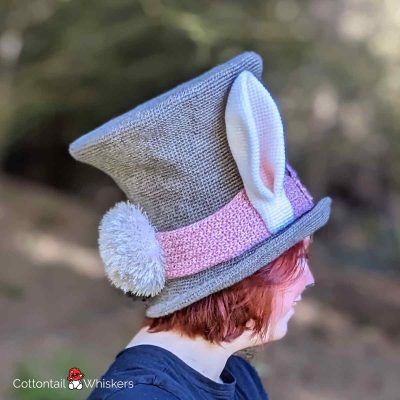 And with that, an often used phrase was born to describe a 'can't turn back' mystery of life changing discovery.
Source: tvtropes.org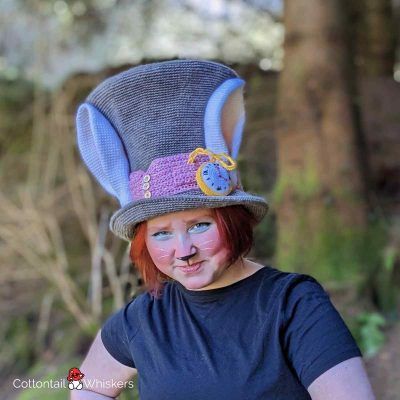 Wonderland Crochet Rabbit Hat Amigurumi Pattern
Pages
Picture guide: 24 pages
Printer friendly: 11 pages
TOTAL: 39 pages
Finished size
28 x 23 x 23 cm (11 x 9 x 9 inches)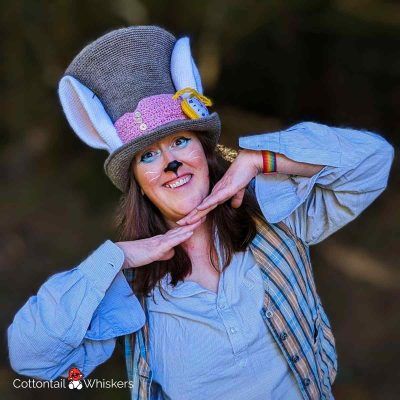 Skill level
Skills required
Rows
Chain (ch)
Rounds (rnd)
Single crochet (sc)
Half double crochet (hdc)
Increase (inc)
Decrease (dec)
Back loops only (BLO)
Front loops only (FLO)
Lemon peel stitch – explained in pattern
Slip stitch (slst)
Materials
Brown aran yarn – 320 g
Burgundy aran yarn – 160 g
White aran yarn – 120 g
Short eyelash yarn – 25 g
Pink Marl DK yarn – 20 g
Yellow DK yarn – 10 g
White DK yarn – 5 g
Black embroidery thread/yarn – scraps
Red embroidery thread/yarn – scraps
Gold buttons 1 cm (x3)
Tie Wraps 24 cm (x12)
Thick card (enough for a circle approx. 28 cm across)
Toy stuffing
Equipment
Crochet hook – 2.50 mm
Crochet hook – 3.50 mm
Crochet hook – 4.00 mm
Tapestry needle
Sewing needle
Scissors
Stitch markers (many!)