Amigurumi Crochet Peacock Shawl Pattern
Our Peacock shawl crochet pattern. Crochet your peafowl scarf of many eyes with our detailed crocheted shawl pattern. Many pages of photo tutorial guide notes and 'how-to' explanation from Cottontail & Whiskers.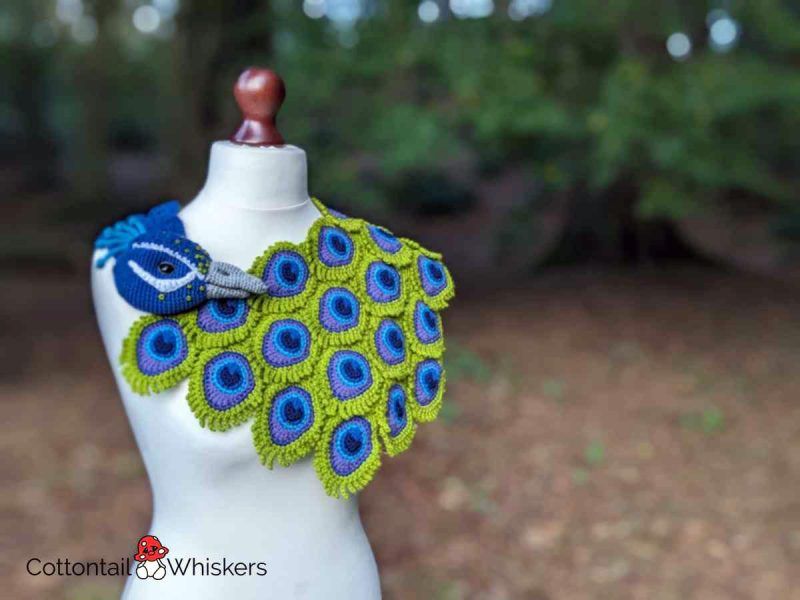 Add this amigurumi peacock pattern your Account to keep, view, download and print whenever you need. We've also added a text only section for easy printing to save on paper and toner.
Born in Scotland, written in English, terms in US American
If you like our Peacock crochet shawl, you might also like some of our other crochet shawl pattern designs
Did you know?
There are 3 species of Peafowl. The most famous and striking is the Indian Peacock but there is also the Java Green Peafowl and Congo Peacock.
source: a-z-animals.com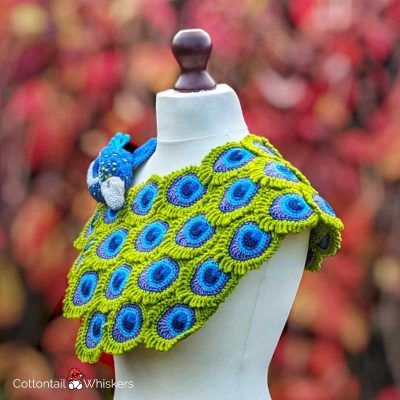 Amigurumi Crochet Peacock Shawl Pattern
Pages
TOTAL: 58 PAGES
Main pattern: 39 pages
Printer section: 16 pages
Finished size
One size
Flat: 66 x 48 cm (26 x 19 inches)
Inner curve is 66 cm (26 inches)
Skill level
Skills required
Rows
Chain (ch)
Rounds (rnd)
Single crochet (sc)
Half double crochet (hdc)
Double crochet (dc)
Treble crochet (tr)
Increase (inc)
Decrease (dec)
Slip stitch (slst)
Fasten off (fo)
Materials
I used Stylecraft Special DK
Green DK yarn (Apple 1852) – 145 g (470 yds)
Blue DK yarn (Lapis 1831) – 50 g (160 yds)
Light purple DK yarn (Violet 1277) – 25g (80 yds)
Navy DK yarn (Midnight 1011) – 20 g (65 yds)
Dark purple DK yarn (Lobelia 1824) – 20 g (65 yds)
Turquoise DK yarn (Turquoise 1068) – 15 g (50 yds)
Light grey DK yarn (Grey 1099) – 10 g (35 yds)
White DK yarn (White 1001) – scraps
Dark grey DK yarn (Graphite 1063) – scraps
Black safety eyes – 14 mm
Button – approx. 2-3 cm
Toy stuffing
Equipment
Crochet hook – 3.00 mm
Crochet hook – 3.50 mm
Tapestry needle
Scissors
Stitch marker
Of course, there are no rules that say you have to use the colours listed…