Amigurumi Crochet Frog Dissection Pattern
Our amigurumi frog anatomy lesson by Cottontail & Whiskers. Crocheting your own anatomically correct(ish) crocheted frog post-mortem is easier using our full colour photo tutorial with how-to crochet picture guide notes.
Things to do!
Frog Anatomy Spot Quiz -Why not get a felt tip pen and see if you can correctly label some dissected frog's body organs!
LIVER – HEART – LUNGS – GALL BLADDER – PANCREAS – FAT BODIES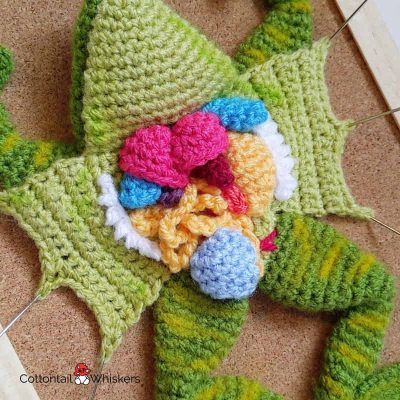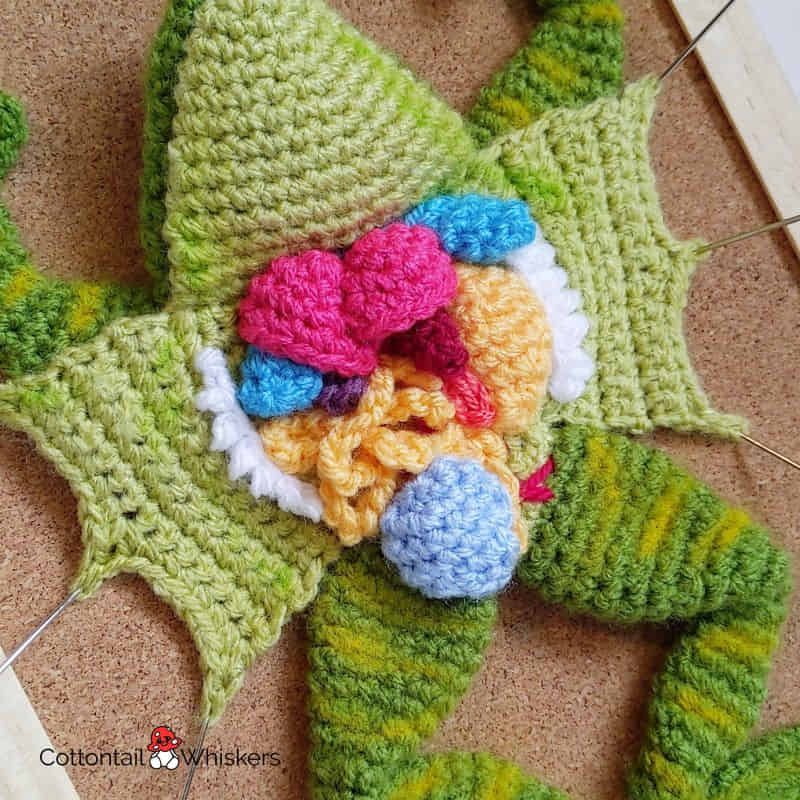 INTESTINES – BLADDER- STOMACH – ILIAC ARTERY
There are very clear teaching diagrams at exploringnature.org if you're looking for some clues.
Answers at the bottom of the page 🙂
When complete, mounted and pinned on cork board, these make wonderful wall hangings. Cool crochet gifts that may even bring a smile to teenage faces, complete with a sneaky biology anatomy lesson. The PDF format amigurumi crochet pattern is immediately available from your Account to keep, view and download.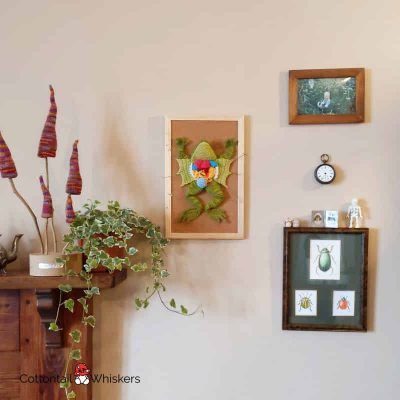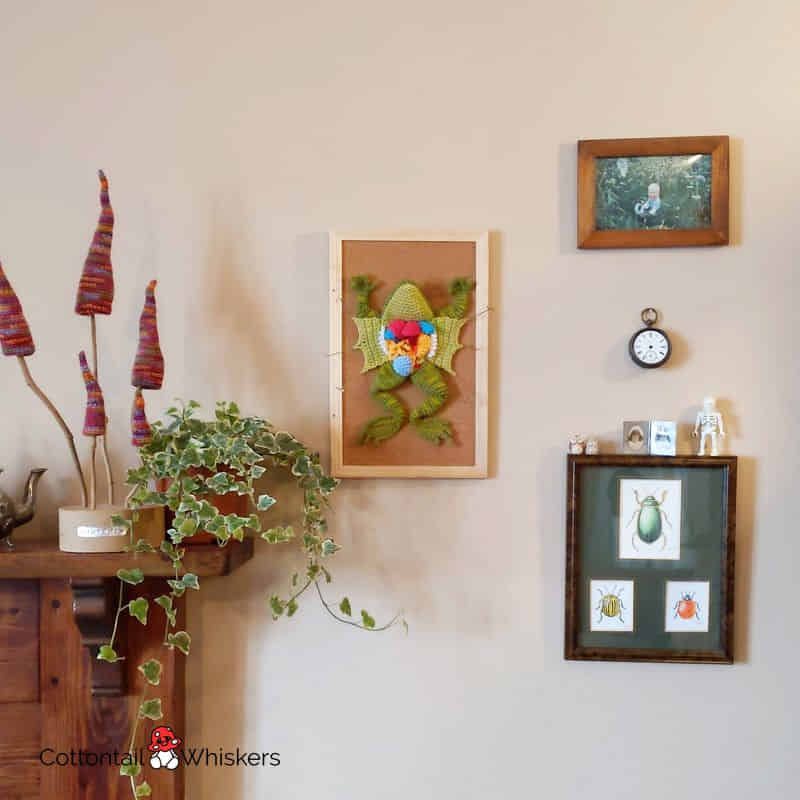 Born in Scotland, written in English, terms in US American
Did you Know?
There were days before digital imaging, synthetic anatomical models and even a wonderfully detailed crochet frog corpse. The science of anatomy has been driven by the eternal question 'how does it work'? Leonardo da Vinci's anatomy studies made it an art form.
source: mpg.de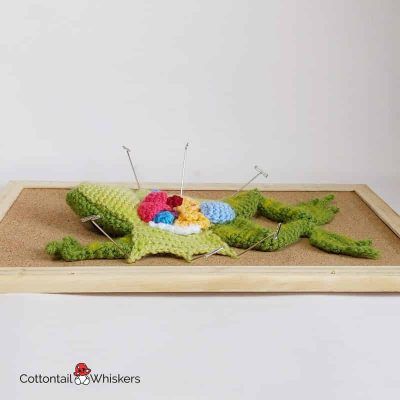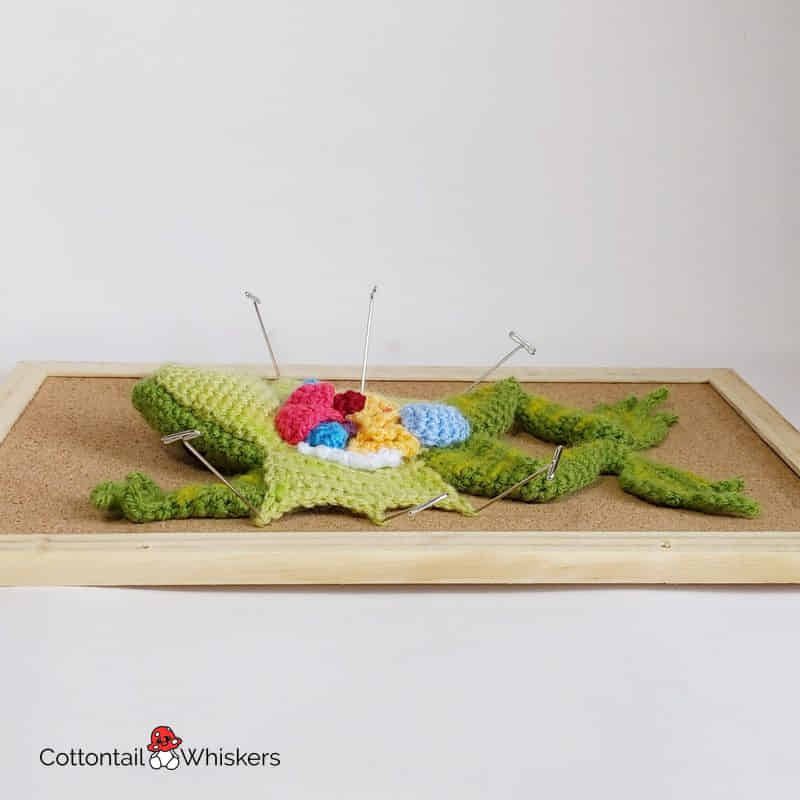 Amigurumi Crochet Frog Dissection Pattern
Finished size
20 x 15 x 3 cm (8 x 6 x 1 inches)
Skill level
Skills required
Rows
Chain (ch)
Rounds (rnd)
Single crochet (sc)
Half double crochet (hdc)
Double crochet (dc)
Increase (inc)
Decrease (dec)
Slip stitch (slst)
Fasten off (fo)
Materials
Dark green DK yarn – 30 g
Light green DK yarn – 6 g
Organ colours DK yarn – scraps
Toy stuffing
A4 cork board
Pins
Equipment
Crochet hook – 3.0 mm
Tapestry needle
Scissors
Stitch marker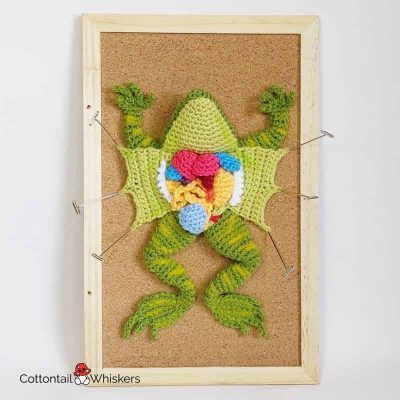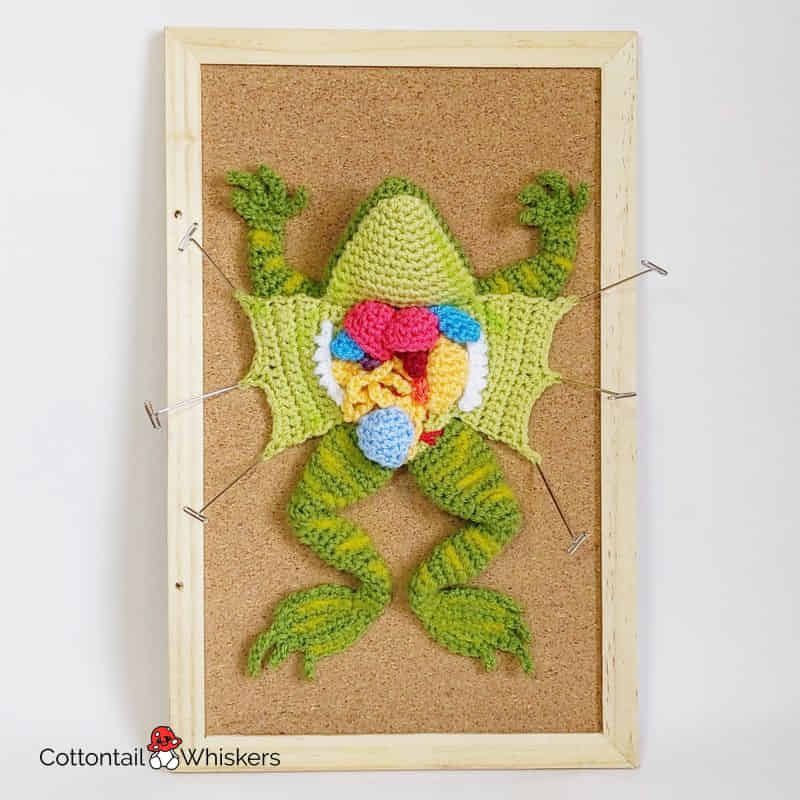 Frog Anatomy Quiz Answers
LIVER – Cerise
HEART – Garnet
LUNGS – Cerulean
GALL BLADDER – Eggplant
PANCREAS – Coral
FAT BODIES – Blanc
INTESTINES/STOMACH – Blonde
BLADDER – Artic
ILIAC ARTERY – Crimson