Amigurumi Crochet Bunny Rabbit Head Pattern
Our BIG bunny rabbit head crochet pattern from Cottontail & Whiskers. Perhaps you're looking for a crafty crochet project to brighten your home decor or nursery. Are you planning that unique handmade gift? Interested in amigurumi and bringing depth to your fibre art? Crocheting this charismatic creation is easier with a clearly written photo tutorial 'how-to' guide to help you through the entire project.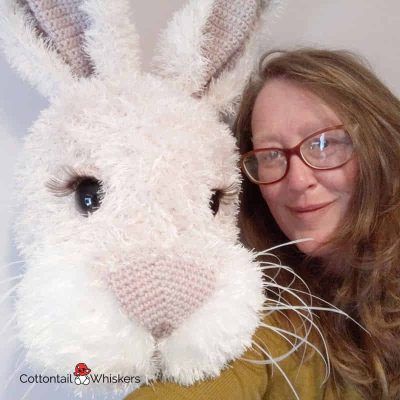 Wall mounted rabbit heads are cute. And no bunnies were hurt in the process. Winner! If you like fabric stuffed trophy head crochet pattern ideas, have a look at our Crochet Heads selection.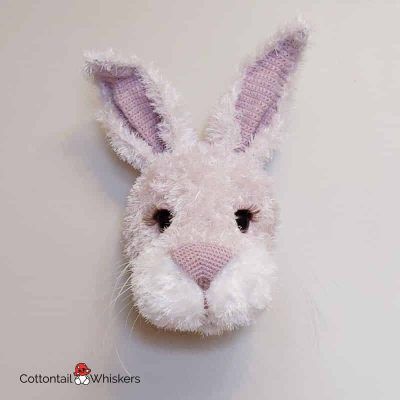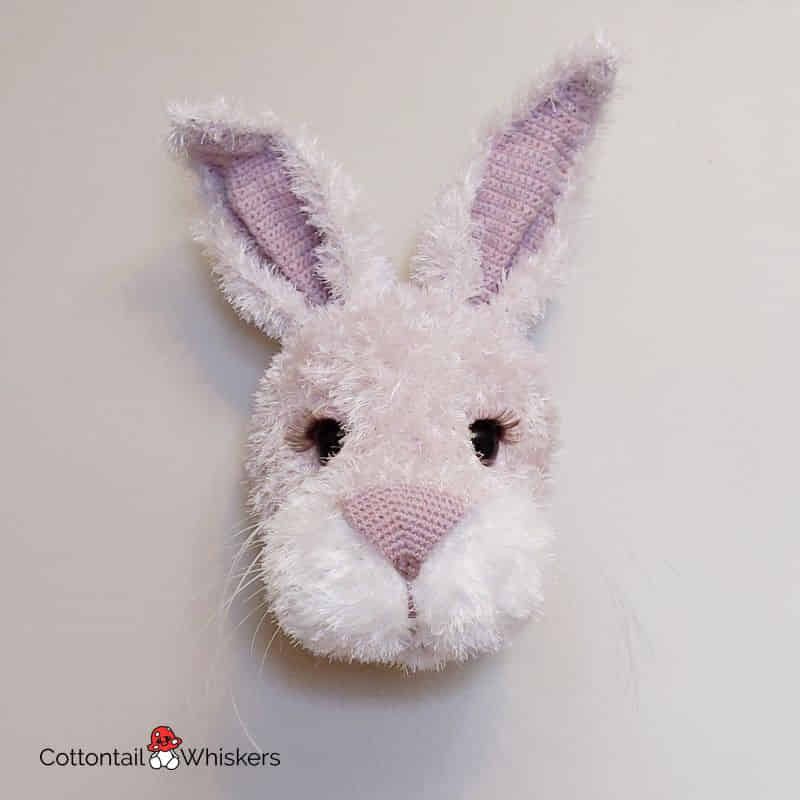 Did you Know?
Rabbits are not Hares (Jackrabbits in the USA). Although they wear similarly styled clothes, hares are larger, less sociable and more aggressive. It's because rabbit costumes are too small for these larger relatives, which makes them irritable. It's not easy being a mad March hare.
Lack of source: britannica.com
Born in Scotland, written in English, terms in U.S. American.
Amigurumi Crochet Bunny Rabbit Head Pattern
Finished size
50 x 30 x 28 cm (19 x 12 x 11 inches)
Skill level
Skills required
Rows
Rounds (rnd)
Chain (ch)
Single crochet (sc)
Double crochet (dc)
Increase (inc)
Decrease (dec)
Slip stitch (slst)
Fasten off (fo)
Materials
Pink SHORT eyelash yarn – 350 g (Powder Ice Yarns Short Eyelash pictured)
White SHORT eyelash yarn – 60 g
Pink aran yarn – 35 g
Dark Brown aran yarn – scraps
Black aran yarn – scraps
White aran yarn – scraps
Brown aran yarn – scraps
Safety eyes – 40 mm (Crochet eyes included)
1 mm Craft wire – 2 metres
False eyelashes
Plastic milk carton
Glue gun
Toy stuffing
Equipment
Crochet hook – 6.0 mm
Crochet hook – 5.0 mm
Crochet hook – 4.0 mm
Tapestry needle
Scissors
Stitch marker