Amigurumi Alice in Wonderland Cheshire Cat Crochet Doll Pattern
Our Alice's Adventures in Wonderland amigurumi pattern of the grinning Cheshire Cat. Create a crooked smile with a grin on your face using alternatives to choose from in the pattern. This enticing pussy cat is a purrfect present for the happy feline lovely in your life.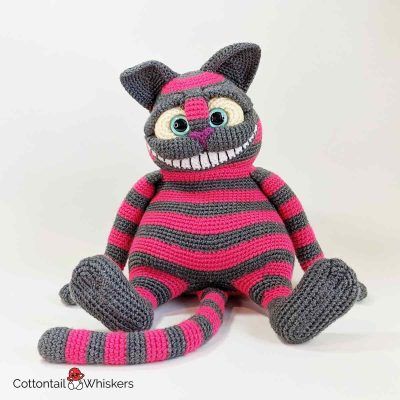 Detailed pages of clearly written crochet pattern with full colour photo guide. Easy read instructions for beginners and experienced crocheters. We also include an additional printer friendly text only section to save your paper and ink.
An account is created on purchase to view, download and print your patterns whenever you want them.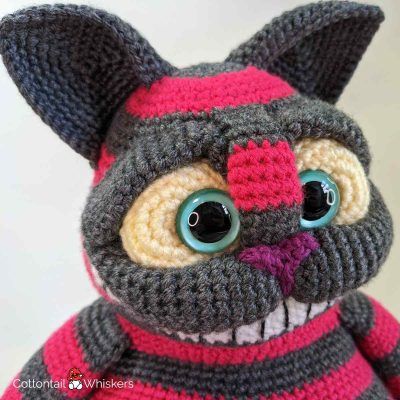 Born in Scotland, written in English, terms in US American
Alice's Adventures in Wonderland's Cheshire Cat doll is one of our Alice in Wonderland crochet patterns. Have a crocheting look around while you're here.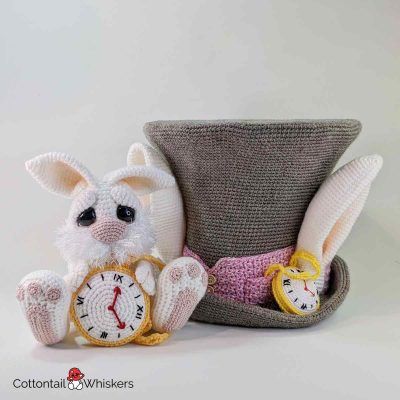 Did you know?
Being from Cheshire, Lewis Carroll was familiar with the already well known phrase in the area 'to grin like a Cheshire Cat'. It's said to derive from the Lion Rampant's mouth on the Cheshire coat of arms which couldn't be painted properly or local wild cats who's mouths were broader and larger than that of the domestic pet cats. Truth is, nobody knows!
Source: wordhistories.net
"Please would you tell me," said Alice, a little timidly, for she was not quite sure whether it was good manners for her to speak first, "why your cat grins like that?"
"It's a Cheshire cat," said the Duchess, "and that's why."
Amigurumi Alice in Wonderland Cheshire Cat Crochet Doll Pattern
Pages
Main: 30 pages
Printer: 14 pages
Total: 48 pages
Size:
30 x 28 x 23 cm (12 x 11 x 9 inches)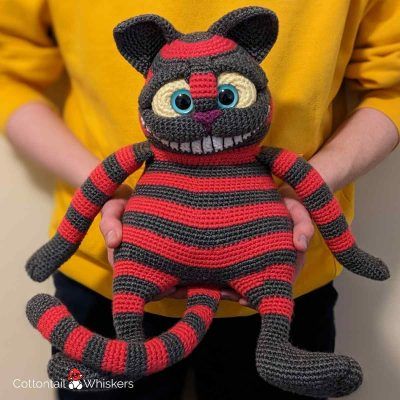 Skill level:
Skills required:
Rows
Chain (ch)
Rounds (rnd)
Single crochet (sc)
Half double crochet (hdc)
Double crochet (dc)
Increase (inc)
Decrease (dec)
Slip stitch (slst)
Fasten off (fo)
Materials:
Charcoal aran yarn – 170 g
Purple/pink aran yarn – 100 g
Black aran – scraps
White aran – scraps
Yellow aran – scraps
White DK yarn – scraps
Black DK yarn – scraps
Aqua black pupil safety eyes – 24mm or Darkside crochet eyes – 40 mm
Toy stuffing
Hoop earrings – optional
Equipment
Hook size – 3.50 mm
Tapestry needle
Scissors
Stitch markers