Amigurumi Hookah & Blue Crochet Caterpillar Patterns
Our amigurumi Blue Crochet Caterpillar pattern with puffing hookah shisha. Craft a big blue baby butterfly in different sizes with our detailed pattern. Complete with their own bubbly waterpipe full of dreams.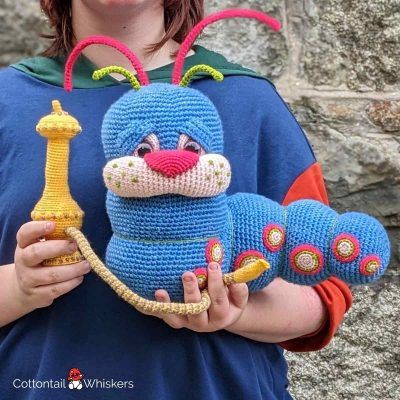 Many pages of photo tutorial guide notes and 'how-to' explanation from Cottontail & Whiskers. Add this laid back pattern your Account to keep, view, download and print whenever you need.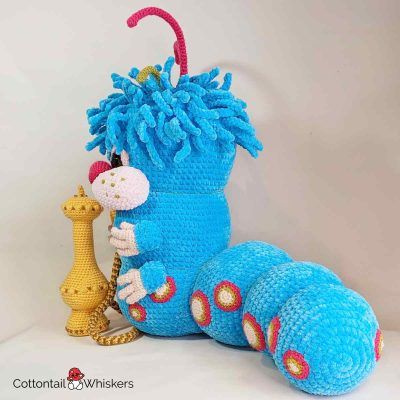 We include a 'Printer Friendly' text only section to save ink and paper.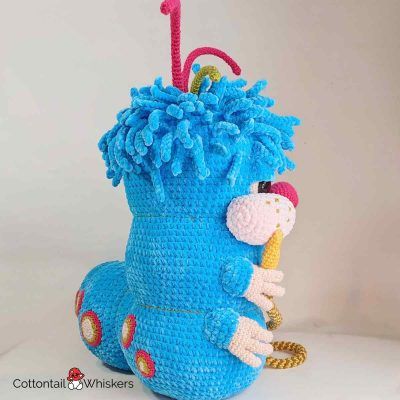 Born in Scotland, written in English, terms in US American
Got the munchies? Snack on our Peanut Butter Jelly fish?!! He's one of our original amigurumi patterns.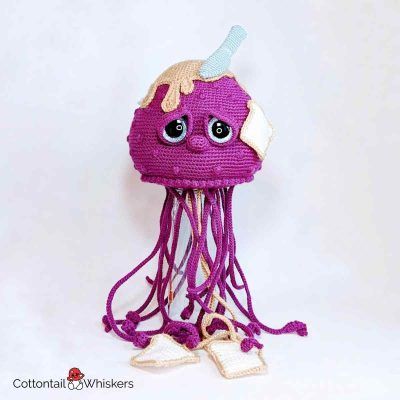 Did you know?
When Disney animated Alice's Adventures in Wonderland (renamed it Alice in Wonderland) they gave their 2010 movie blue caterpillar a name. "You're not Absolem. I'm Absolem".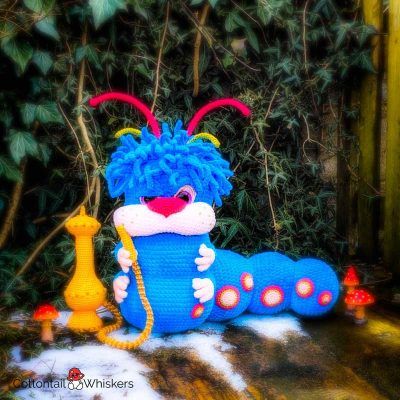 As for Lewis Carrol's original story, the real question has always been 'Who are you"? When Alice meets blue caterpillars, any of these voice actors might do: Richard Haydn, Don McManus, Jarion Monroe, Alan Rickman, Paul Johnstone, Richard Newman, Scott Swanson, Paul Bandey, David Shaughnessy, Roger Daltrey, Corey Burton, Iggy Pop. Use the link to hear them all.
Source: behindthevoiceactors.com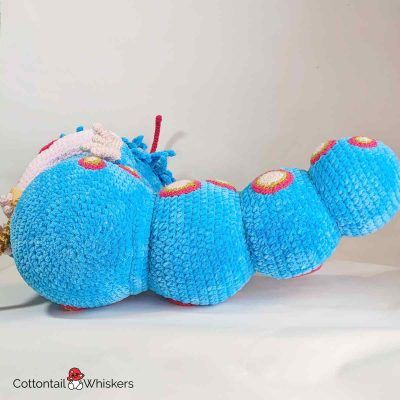 Amigurumi Blue Crochet Caterpillar Pattern
Pages
Picture guide: 30 pages. Printer friendly: 12 pages
TOTAL: 47 pages
Finished size
LARGE: 51 x 43 x 23 cm (20 x 17 x 9 inches) – not including antenna
SMALL: 30 x 23 x 15 cm (12 x 9 x 6 inches) – not including antenna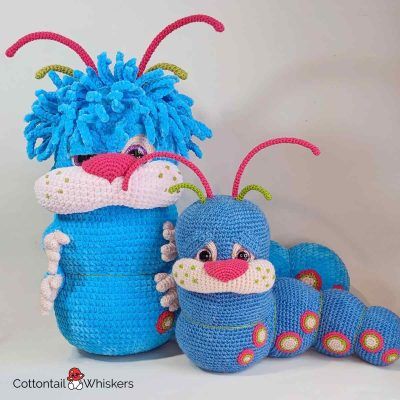 Skill level
Skills required
Rows
Chain (ch)
Rounds (rnd)
Single crochet (sc)
Half double crochet (hdc)
Increase (inc)
Decrease (dec)
Back loops only (BLO)
Slip stitch (slst)
Materials
LARGE:
I used YarnArt 6-super bulky chenille, Hayfield Bonus 4-aran and Stylecraft 4-aran.
Blue chenille (758) – 500 g
Pink chenille (750) – 40 g
Pale pink aran – 30 g
Dark pink aran (1083) – 35 g
Green aran (1712) – 15 g
3D glitter safety eyes – 18 mm
Toy stuffing
Craft wire – 1 mm
SMALL:
I used Hayfield Bonus 4-aran and Stylecraft 3-DK.
Blue aran – 200 g with hair & hands, 140 g without
Pale pink aran (625) – 15 g
Pale pink DK (1240) – 20 g with hands, 10 g without
Dark pink DK (1083) DK – 20 g
Green DK (1852) – 10 g
3D glitter safety eyes – 35 mm
Toy stuffing
Craft wire – 1 mm
Equipment
LARGE: Crochet hook – 4.00mm, 6.00 mm
SMALL: Crochet hook – 2.50mm, 4.00 mm
Extra long tapestry needle
Scissors
Stitch markers
Crochet Amigurumi Hookah Pipe Pattern
Pages
Picture guide: 10 pages. Printer friendly: 4 pages
TOTAL: 18 pages
Finished size
LARGE: 28 x 9 x 9 cm (11 x 3.5 x 3.5 inches) – not including hose
SMALL: 18 x 6 x 6 cm (7 x 2.5 x 2.5 inches) – not including hose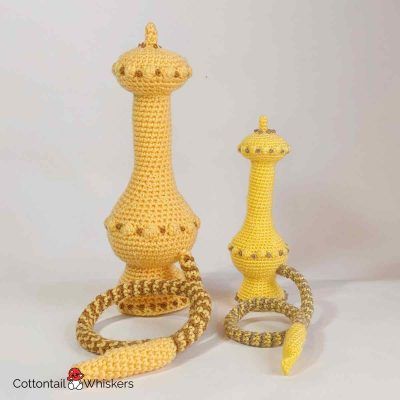 Skill level
Skills required
Rows
Chain (ch)
Rounds (rnd)
Single crochet (sc)
Increase (inc)
Decrease (dec)
Back loops only (BLO)
Front loops only (FLO)
Bobble stitch (BOB) explained in pattern
Slip stitch (slst)
Materials
LARGE:
Yellow aran yarn – 50 g
Brown aran yarn – 10g g
Toy stuffing
SMALL:
Yellow DK yarn – 25 g
Brown DK yarn – 5 g
Toy stuffing
Equipment
LARGE: Crochet hook – 4.00mm
SMALL: Crochet hook – 2.50mm
Tapestry needle
Scissors
Stitch markers