Blow Fly Crochet Doorstop Pattern with Amigurumi Baby Bluebottle Maggot
Betty the Bluebottle Doorstop & Basmati the Maggot. Pages of full colour photo tutorial with 'how-to' instructions, hints and tips from Cottontail and Whiskers. Available from your Account to keep, view, download and print whenever you need.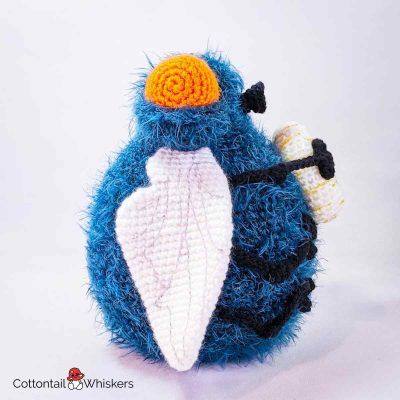 Part of our Doorstop catalogue. All original and available direct from the designer. Also available as part of our Crochet Bugs Doorstop Pattern Bundle.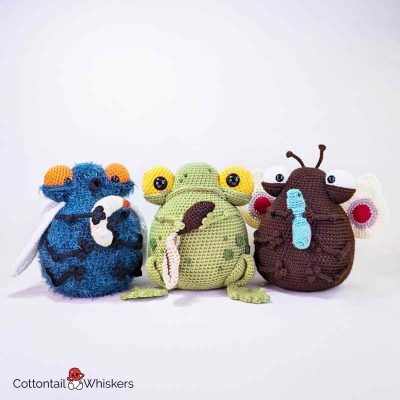 Born in Scotland, written in English, terms in US American
Did you Know?
The Bluebottle is a member of the blowfly family. It's scientific name is Calliphora Vomitoria, which is earned from 'vomiting' the liquid stomach contents back through it's mop like mouthparts to dissolve and then suck up the liquified food. It may have lunched on its favourite food beforehand, dog poo or dead bodies. Flies in the sugar bowl, SHOO SHOO SHOO… or you'll be skipping to the Loo, m'darling!
Source: photomacrography.net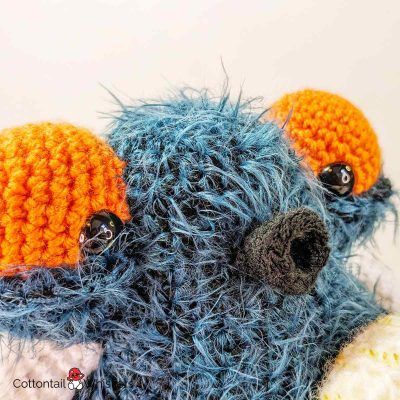 Blow Fly Crochet Doorstop Pattern with Amigurumi Baby Bluebottle Maggot
Pages
Finished size
22 x 18 x 18 cm (9 x 7 x 7 inches)
Skill level
Skills required
Chain (ch)
Rounds (rnd)
Increase (inc)
Decrease (dec)
Slip stitch (slst)
Single crochet (sc)
Double crochet (dc)
Back loops only (BLO)
Fasten off (fo)
Materials
Bluebottle:
Black DK yarn – 45 g
Teal lightweight eyelash yarn – 90 g

(I used 'Mondial, Splendor Basic'. You can substitute the black DK and Eyelash for 75 g of black aran)

White aran yarn – 35 g
Orange aran yarn – 10 g
Black aran yarn – 10 g
Safety eyes – 14 mm
Stocking or tights
Beads / rice / grain – 500 g
Toy stuffing
Black pen
Maggot:
Cream aran yarn – 5 g
Toy stuffing
Brown pen
Equipment
Crochet hook – 4.0 mm
Tapestry needle
Scissors
Stitch marker