Doorstop Amigurumi Crochet Reindeer Pattern
Meet Raymond the red nosed reindeer amigurumi crochet pattern. Crocheting this lesser known door stopper cousin of Rudolph  is easier with our detailed pattern. Get your reindeers Christmas jumper on using our full colour photo tutorial with how-to guide notes.
Your crochet amigurumi patterns are always available from your Account to keep, view, download and print from Cottontail & Whiskers.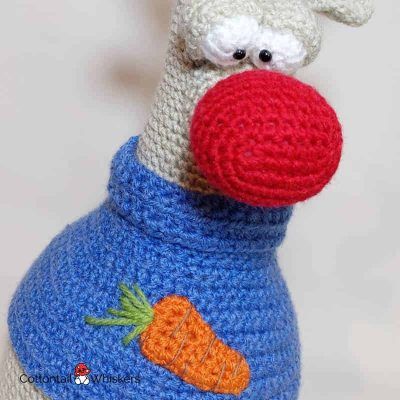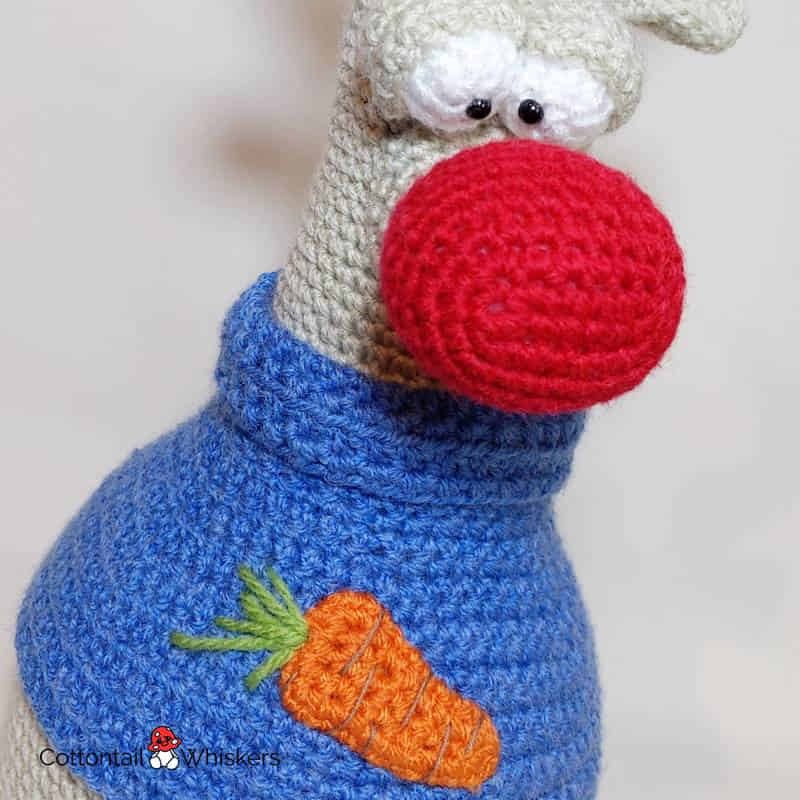 Everyone's heard of Rudolph the Red Nosed Reindeer and his pals Dasher, Dancer, Prancer, Vixen, Comet, Cupid and Donner kebab. Meanwhile Rudolph's cousin Raymond isn't so familiar. Reindeer have long held the honour as crochet Christmas doorstops. Oh yes they have!
It's been the red nosed Raymond and Rudolph's family duty to guard the gates to the North Pole since snow was invented. They get too cold without a Christmas jumper, so invented that tradition too. Not a lot of people know that. We're continuing the Christmas tradition and made an amigurumi Raymond Reindeer and his Christmas jumper doorstopper in The Red Nosed reindeer family honour.
Barry is part of a gang of 3 doorstop Christmas crochet patterns. What would the Festivities be without a Brussels sprout! Nor would it be Yuletide without a flaming amigurumi crochet Christmas pudding holding the door open for Father Christmas.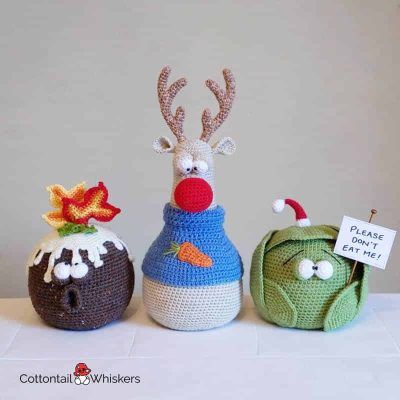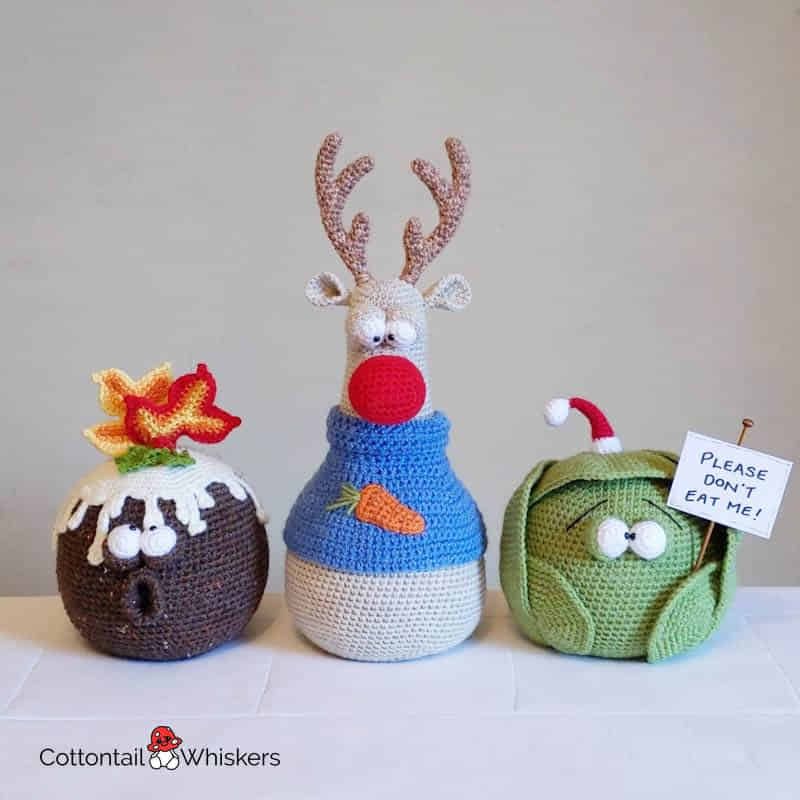 Born in Scotland, written in English, terms in US American
Did you know?
You cannot tell how old a reindeer is by cutting it in half and counting the rings. It only works for trees. They do however enjoy eating hallucinogenic fly agaric mushrooms. No wonder they can fly!
Source: nature.org
Doorstop Amigurumi Crochet Reindeer Pattern
Finished size
43 x 18 x 18 cm (17 x 7 x 7 inches)
Skill level
Skills required
Rows
Chain (ch)
Rounds (rnd)
Single crochet (sc)
Increase (inc)
Decrease (dec)
Slip stitch (slst)
Fasten off (fo)
Materials
Beige aran yarn – 130 g
Blue aran yarn – 50 g
Brown aran yarn – 15 g
Red aran yarn – 5 g
Orange aran yarn – scraps
White DK yarn – scraps
Green DK yarn – scraps
Black safety eyes – 6 mm
Craft wire – 20 cm
Toy stuffing
Stocking or tights
Beads / rice / grain – 500 g
Equipment
Crochet hook – 3.0 mm
Crochet hook – 4.0 mm
Crochet hook – 5.0 mm
Tapestry needle
Scissors
Stitch marker